31.01.2018 | Review Article | Ausgabe 1/2018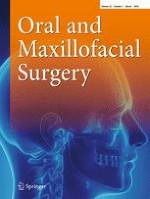 Prosthetic versus surgical rehabilitation in patients with maxillary defect regarding the quality of life: systematic review
Zeitschrift:
Autoren:

M. Y. Sharaf, S. I. Ibrahim, A. E. Eskander, A. F. Shaker
Abstract
Purpose
To assess the ability of prosthetic rehabilitation versus surgical rehabilitation in improving the QOL for patients with maxillary defects.
Material and methods
A systematic search of PubMed, Scopus data base, Cochrane database, Ovid database, and Latin America & Caribbean database for articles published before September 2017 was performed by two independent reviewers. A manual search of articles published from January 2000 to September 2017 was also conducted. Only English studies were included which evaluate the QoL in patients with head and neck cancers. Any confusion between the two independent reviewers was resolved by means of a moderated discussion between the reviewers.
Results
Five studies fulfilled the inclusion criteria for this study. Many parameters were used regarding evaluation of QOL as the EORTC Head and Neck 35 assessment, UW-QOL, OHIP-14, VAS, OFS, MHI, HAD, Body Satisfaction Scale, Oral symptom check list, Swallowing, Diet consist, Pain control, Postoperative complication, and Speech. Two studies supported the surgical line of treatment for improving the QOL as compared to the prosthetic one; another two studies showed a statistically insignificant improvement in the patients' QOL with the surgical line, while only one revealed insignificant difference in QoL with both lines of treatment.
Conclusions
Surgical rehabilitation provides a better line of treatment in improving the QOL for patients with maxillary defects. On the other hand, prosthetic has proved effectiveness in the immediate post-surgical times as temporary strategy, and it has represented a good alternative when the surgical obturation is compromised.