01.11.2010 | 2010 SSAT Plenary Presentation | Ausgabe 11/2010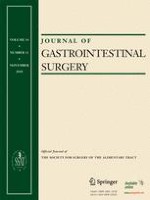 RAGE Signaling Significantly Impacts Tumorigenesis and Hepatic Tumor Growth in Murine Models of Colorectal Carcinoma
Zeitschrift:
Autoren:

Joseph DiNorcia, Dorota N. Moroziewicz, Nikalesh Ippagunta, Minna K. Lee, Mark Foster, Heidrun Z. Rotterdam, Fei Bao, Yu Shan Zhou, Shi Fang Yan, Jean Emond, Ann Marie Schmidt, John D. Allendorf
Wichtige Hinweise
This manuscript was presented at the SSAT Meeting in New Orleans, May 2010.
Discussant
Dr. Emina H. Huang (Gainesville, FL):
This is the lab where I started as faculty, and it's really nice to see you guys progress with your work. So I would like to congratulate you for continuing this investigation of RAGE and colorectal cancer.
As you point out, RAGE activation has been implicated in a broad range of disease processes, including inflammation and diabetes as well as cancer. In the current studies, your team uses two different murine models.
In the first model, you have spontaneous development of adenomas and adenocarcinoma. However, this model bears the shortcomings of many murine polyposis-like models, in which tumors are dominantly present in the small bowel rather than in the colon.
In your second model, you directly inject the portal vein, which results in the development of liver lesions. Despite shortcomings associated with any model system, the significance of your studies reveals the potential for future translation. So I have a couple of questions:
Number one, would you posit that an orthotopic metastatic model of colorectal cancer might demonstrate different results? And number two, chronic inflammation is involved in 15% of the world's malignancies. Certainly, these relationships are seen in the GI tract, including Barrett's esophagus, hepatitis, and ulcerative colitis. Would you envision RAGE antagonism as having a role in chemo prevention or in an adjuvant cancer treatment?
Thank you. Keep up the great work.
Closing Discussant
Dr. Joseph DiNorcia:
Thank you, Dr. Huang, for your gracious comments and thoughtful questions. To answer the first, it's true that the majority of tumors we saw in the Apc 1638 model developed in the small intestine, as is reported in literature. Though of small intestine origin, these tumors follow the same adenoma to carcinoma progression as a colon lesion. So I hope an orthotopic model would demonstrate similar effects. A colleague at the resident research conference suggested using a chemical-induced model of colon carcinogenesis to test the effects of RAGE. Using AOM/DSS, for example, we might induce colon cancer in both RAGE knockout and RAGE wild-type mice and compare results.
To answer the second question, I think the ligand–RAGE axis is an exciting potential target for both prevention and treatment of cancer. In terms of treatment, it's known that when they outgrow their blood supply, tumor cells necrose and release HMGB1. HMGB1 then feeds back on RAGE to create a pro-survival environment that supports the remaining tumor cells. So it's very possible that a RAGE antagonist could inhibit that feedback mechanism and act either as a primary therapy or as an adjunct agent that might make chemotherapy even more effective. Still, we have a lot more work to do before we get to the point of using a RAGE antagonist in clinical practice.
Discussant
Dr. Merril Dayton (Buffalo, NY):
A group at my home institution in Buffalo is studying RAGE in trauma and has found that animals that have a high RAGE diet do much more poorly after trauma. My question for you is, what are the implications of diet on advanced glycosylation end products and so forth? Have you had any opportunity to pre-feed animals RAGE products and see how that impacts cancer? Obviously, there is concern about carbonized food products and its implications in colon cancer.
Closing Discussant
Dr. Joseph DiNorcia:
We haven't studied any of the potential dietary effects in these mouse models of cancer. It's true that most of the original work on RAGE was done in diabetes. And certainly in the tumor microenvironment, there are increased levels of advanced glycosylation end products, as tumor cells have increased rates of glycolysis. It follows then that diets high in refined carbohydrates might predispose to the development of cancer, perhaps mediated through the ligand–RAGE axis. It would be an interesting area for future study.
Abstract
Background
The receptor for advanced glycation end-products (RAGE) is a cell surface receptor implicated in tumor cell proliferation and migration. We hypothesized that RAGE signaling impacts tumorigenesis and metastatic tumor growth in murine models of colorectal carcinoma.
Materials and Methods
Tumorigenesis
:
Apc
1638N/+
mice were crossed with
Rage
−/−
mice in the C57BL/6 background to generate
Apc
1638N/+
/
Rage
−/−
mice.
Metastasis
: BALB/c mice underwent portal vein injection with CT26 cells (syngeneic) and received daily soluble (s)RAGE or vehicle.
Rage
−/−
mice and
Rage
+/+
controls underwent portal vein injection with MC38 cells (syngeneic).
Rage
+/+
mice underwent portal vein injection with MC38 cells after stable transfection with full-length RAGE or mock transfection control.
Results
Tumorigenesis
:
Apc
1638N/+
/
Rage
−/−
mice had reduced tumor incidence, size, and histopathologic grade.
Metastasis
: Pharmacological blockade of RAGE with sRAGE or genetic deletion of
Rage
reduced hepatic tumor incidence, nodules, and burden. Gain of function by transfection with full-length RAGE increased hepatic tumor burden compared to vector control MC38 cells.
Conclusion
RAGE signaling plays an important role in tumorigenesis and hepatic tumor growth in murine models of colorectal carcinoma. Further work is needed to target the ligand–RAGE axis for possible prophylaxis and treatment of primary and metastatic colorectal carcinoma.