01.12.2018 | Case report | Ausgabe 1/2018 Open Access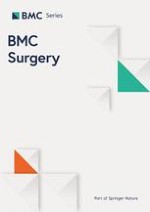 Robot-assisted enucleation of large dumbbell-shaped esophageal schwannoma: a case report
Zeitschrift:
Autoren:

Yajie Zhang, Yu Han, Jie Xiang, Hecheng Li
Abstract
Background
Esophageal schwannomas are extremely rare, with few cases reported in the literature. Traditionally, resection of esophageal schwannoma is typically performed using thoracotomy or video-assisted thoracic surgery. However, large, irregular tumors may increase the surgical difficulties of complete enucleation and lead to potential mucosal damage. Moreover, a subtotal esophagectomy cannot be avoided in some conditions. Here, we report the first case of robot-assisted enucleation of a large dumbbell-shaped esophageal schwannoma.
Case presentation
A 48-year-old woman presenting with a 1-year history of dysphagia was noted to have a homogeneous irregular mass measuring 70 mm in diameter and arising from the submucosal layer of the distal esophagus. A diagnosis of an esophageal submucosal tumor (SMT) was made, most likely leiomyoma. Robot-assisted thoracoscopic excision of the tumor was performed. The da Vinci Surgical System provided delicate dissection in the confined posterior mediastinal space, and the large dumbbell-shaped tumor was completely removed without damage to the mucosal integrity. The operative time was 108 min, and the blood loss was less than 20 ml. The pathology of the tumor was esophageal schwannoma. The patient experienced an unremarkable recovery and was discharged on the fifth day after operation. No symptoms or recurrence were present at the 50-month follow-up postoperatively.
Conclusion
We present a rare case of large irregular esophageal schwannoma that was excised by robot-assisted surgery. A clear operative field and delicate dissections are critical points for the complete removal of this large esophageal SMT. We demonstrate that robotic treatment of large esophageal schwannoma is minimally invasive and can be successfully applied in such cases.