16.02.2021 | Schwangerschaft | Leitthema | Ausgabe 3/2021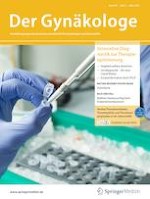 Aktuelles Vorgehen bei frühem vorzeitigem Blasensprung: neue Definitionen? Ist die CRP-Bestimmung sinnvoll? Sind Alternativen in Sicht?
Zeitschrift:
Autoren:

MMS, MBM, IBCLC PD Dr. Holger Maul, Mirjam Kunze, Richard Berger
Wichtige Hinweise
Redaktion
T. Fehm, Düsseldorf
W. Jonat, Kiel
Zusammenfassung
Bei ca. 3 % der Schwangerschaften kommt es zu einem frühen vorzeitigen Blasensprung ("preterm premature rupture of the membranes", PPROM). Da bei PPROM mit hoher Wahrscheinlichkeit mit einer MIAC ("microbial invasion of the amniotic cavity") – bereits vorbestehend oder sekundär nach Blasensprung – zu rechnen ist, ist auch die Wahrscheinlichkeit für eine intraamniale Inflammation (IAI) signifikant erhöht. Eine IAI ist mit kurzer Latenz bis zur Geburt des Kindes und mit ungünstigen Verläufen mit kurz- und langfristig erhöhter Morbidität des Neugeborenen assoziiert, besonders bei Entwicklung eines FIRS ("fetal inflammatory response syndrome"). Die Vorhersage einer IAI anhand mütterlicher Parameter ist nur schwer möglich. Die neu eingeführte Definition Triple I ("infection, inflammation, or both") fokussiert auf den Parameter maternale Körpertemperatur, der bei gesichertem Anstieg auf ≥ 38,0 °C und fehlendem Anhalt für eine andere Fieberursache sowie durch mindestens einen weiteren Parameter (fetale Tachykardie > 160 bpm ("beats per minute") für mindestens 10 min, maternale Leukozyten > 15.000/µl ohne Gabe von Kortikosteroiden, purulenter Fluor aus dem Muttermund) bestätigt werden soll. Die Bestätigung der Diagnose Triple I ist zuverlässig nur durch eine Plazentahistologie ("histologically confirmed chorioamnionitis", HCA) möglich. Eine Bestätigung durch Amniozentese (positive Gram-Färbung, Glukosekonzentration <14 mg/dl, Leukozytenzahl >30 Zellen/mm3, positive Bakterienkultur) dauert zu lange und ist unzuverlässig. Auch serielle CRP(C-reaktives Protein)-Bestimmungen ermöglichen keine zuverlässige Diagnose einer IAI. Studien zur Bestimmung von IL(Interleukin)-6 aus dem Zervikalkanal und dem hinteren Scheidengewölbe sind vielversprechende Verfahren, deren Validierung abgewartet werden muss.