01.12.2018 | Research | Ausgabe 1/2018 Open Access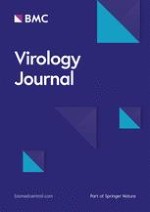 Screening and identification of B-cell epitopes within envelope protein of tembusu virus
Zeitschrift:
Autoren:

Dongmin Zhao, Kaikai Han, Xinmei Huang, Lijiao Zhang, Huili Wang, Na Liu, Yujie Tian, Qingtao Liu, Jing Yang, Yuzhuo Liu, Yin Li
Abstract
Background
Tembusu virus is a newly emerging flavivirus that caused egg-drop syndrome in ducks in China. TMUV envelope protein is a major structural protein locates at the surface of tembusu virus particle. During tembusu virus infection, envelope protein plays a pivotal role in induction of neutralizing antibody. However, B cell epitopes within envelope protein have not been well studied.
Method
A series of 13 peptides derived from E protein of tembusu virus were synthesized and screened by Dot blot with tembusu virus-positive duck serum. Potential B-cell epitopes were respectively fused with GST tag and expressed in
E. coli
. The immunogenicity and protective efficiency of epitopes were assessed in ducks.
Results
Dot blot assay identified the peptides P21 (amino acids 301–329), P23 (amino acids 369–387), P27 (amino acids 464–471) and P28 (amino acids 482–496) as potential B-cell epitopes within the envelope protein of tembusu virus. Immunization of prokaryotically expressed epitopes elicited specific antibodies in ducks and the specific antibody elicited by P21, P27 and P28 could neutralized tembusu virus. In addition, protective test suggested that P21 and P27 could completely protect immunized ducks from TMUV challenge.
Conclusion
Four potential B cell epiotpes within tembusu virus envelope protein were identified and analyzed in vitro and in vivo. It was demonstrated that two of them (P21 and P27) could elicit neutralizing antibodies in ducks and offer complete protection against tembusu virus challenge. This findings will contribute to the development of epitope vaccine for tembusu virus prevention.