Erschienen in: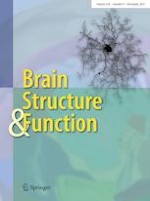 Open Access 10.07.2021 | Original Article
Simultaneous changes in visual acuity, cortical population receptive field size, visual field map size, and retinal thickness in healthy human aging
Erschienen in: Brain Structure and Function | Ausgabe 9/2021
Abstract
Healthy human aging is associated with a deterioration of visual acuity, retinal thinning, visual field map shrinkage and increasing population receptive field sizes. Here we ask how these changes are related to each other in a cross-sectional sample of fifty healthy adults aged 20–80 years. We hypothesized that age-related loss of macular retinal ganglion cells may lead to decreased visual field map sizes, and both may lead to increased pRF sizes in the cortical central visual field representation. We measured our participants' perceptual corrected visual acuity using standard ophthalmological letter charts. We then measured their early visual field map (V1, V2 and V3) functional population receptive field (pRF) sizes and structural surface areas using fMRI, and their retinal structure using high-definition optical coherence tomography. With increasing age visual acuity decreased, pRF sizes increased, visual field maps surface areas (but not whole-brain surface areas) decreased, and retinal thickness decreased. Among these measures, only functional pRF sizes predicted perceptual visual acuity, and Bayesian statistics support a null relationship between visual acuity and cortical or retinal structure. However, pRF sizes were in turn predicted by cortical structure only (visual field map surface areas), which were only predicted by retinal structure (thickness). These results suggest that simultaneous disruptions of neural structure and function throughout the early visual system may underlie the deterioration of perceptual visual acuity in healthy aging.
Supplementary Information
Maria Fatima Silva and Ben M. Harvey contributed equally.
Publisher's Note
Springer Nature remains neutral with regard to jurisdictional claims in published maps and institutional affiliations.
Introduction
We, therefore, hypothesized that age-related loss of macular retinal ganglion cells may lead to decreased visual field map sizes, and both may lead to increased pRF sizes in the cortical central visual field representation. To test this hypothesis, we combined perceptual measures of visual acuity with two neuroimaging methods: pRF modeling of fMRI data to quantify cortical visual field map structure and function, and high-definition optical coherence tomography (OCT) to quantify retinal structure. We tested the same 50 participants in all three data sets, spanning an age range from 20 to 80 years. This allowed us to quantify age-related changes in visual acuity (perception), early visual field map receptive field sizes (cortical functional) and surface areas (cortical structure), and retinal thickness (retinal structure). It also allowed us to examine between-participant correlations in these measures to determine how the differences with age in early visual system structure, function and perception during healthy human aging are related.
Methods
Participants
Fifty healthy right-handed volunteers were recruited for this study and categorized by age into three groups: young adults (20–40 years,
n
 = 18), middle-aged adults (40–60 years,
n
 = 17), and older adults (60–80 years,
n
 = 15). A full neuro-ophthalmological examination was performed, including intraocular pressure (IOP) measurement (Goldman applanation tonometer), slit-lamp biomicroscopy and fundus examination (Goldman lens) to ensure participants had no clinical disorders of the eye. Before acuity measurements and fMRI began, participants' subjective refractive errors were measured and corrected for. After this correction, best-corrected visual acuity (BCVA) was measured as Early Treatment Diabetic Retinopathy Study (ETDRS) letter score using the ETDRS chart (higher scores correspond to better vision). Retinal image acquisition was obtained with optical coherence tomography (spectral domain Cirrus HD-OCT 5000, Carl Zeiss Meditec, Dublin, CA, USA) and only participants without any abnormalities of the macula or the optic disc were included. All participants had normal or corrected to normal vision (visual acuity ≥ 8/10) and IOP ≤ 21 mmHg, and with no history of visual disease or clinical intervention. No subject showed any signs of Age-Related Macular Degeneration (even in an early stage), nor family history of glaucoma or other hereditary eye disease or diabetes. One subject was left-handed as determined by the Edinburgh inventory (Oldfield
1971
) and excluded. Only participants without cognitive impairment were included in the study as assessed using the Montreal Cognitive Assessment-MoCA, a screening tool for cognitive deterioration (Freitas et al.
2011
), scoring within normality according to their age and education. None of the subjects had a history of neurological or psychiatric disorders. The study was conducted in accordance with the tenets of the Declaration of Helsinki and was approved by the Ethics Committee of the University of Coimbra. Written informed consent for the study was obtained, after an explanation of the nature and possible consequences of the study. Table
1
shows all demographic parameters of the study participants. There were no statistically significant differences between age groups in gender, education level and other demographic characteristics of participants.
Table 1
Participants' demographic characteristics
Demographic parameters

Age groups

20–40 years

40–60 years

60–80 years

18

17

15

Mean age (SEM) (years)

29.44 (1.15)

48.24 (1.29)

68.40 (1.51)

Age range (years)

23–38

40–56

60–79

Gender (male:female)

9:9

11:6

6:9

Mean weight (SEM) (kg)

66.11 (3.14)

73.33 (4.12)

67.04 (3.11)

Mean height (SEM) (meters)

1.68 (0.01)

1.67 (0.02)

1.67 (0.02)

Mean age of last education (SEM): range (years)

16.72 (0.61):10–20 years

15.06 (1.01): 6–20 years

13.79 (0.99): 4–17 years
fMRI acquisition
Data acquisition was performed on a Siemens Magnetom Trio 3 T scanner (Siemens, Erlangen, Germany), using a whole-brain approach, with a 12-channel head coil. Two high-resolution 3D anatomical MPRAGE (magnetization-​prepared rapid gradient-echo) T1-weighted sequences were acquired, each with an isotropic resolution of 1 mm, repetition time (TR) of 2530 ms, echo time (TE) of 3.42 ms, field of view (FOV) of 256 × 256 mm. Each anatomical sequence comprised 176 slices, a flip angle of 7°, an inversion time of 1100 ms with a total time of 363 ms. The functional T2*-weighted 2D echo-planar MRI images were acquired with an isotropic resolution of 2 mm, TR of 2000 ms, TE of 30 ms, FOV of 256 × 256 mm. Each functional sequence comprised 29 interleaved slices and 186 volumes, the first six initial volumes for BOLD stabilization were discarded.
Visual stimuli
During fMRI visual field mapping, participants wore any corrective lenses assigned during the initial ophthalmological examination. Visual stimuli were displayed on a 32-inch LCD monitor (Inroom Viewing Device; NordicNeuroLab, Bergen, Norway) with 1920 × 1080 pixel resolution, positioned at the end of the scanner bore and viewed through a mirror attached to a head coil. The display was 70.0 × 39.5 cm and the viewing distance was 156.5 cm, so it subtended a 25.2° × 14.4° of visual angle.
The visual field mapping stimulus was created with PsychToolbox (Brainard
1997
; Pelli
1997
) for Matlab (version R2014b; Mathworks, Natick, MA, USA). It consisted of bars stepping perpendicular to bar orientation across a 7.2° radius circle filling the display's vertical dimension (Dumoulin and Wandell
2008
). These bars contained a white and black checkerboard pattern with 100% contrast moving parallel to the bar orientation (vertical, horizontal, and diagonal). The bar was 1.80° wide, 1/4th of the stimulus radius, and the checks were each 0.9° square, so the spatial frequency of the checkerboard matched the bar width. Four bar orientations (0°, 45°, 90°, and 135°) and two different motion directions for each bar were presented giving a total of eight different bar motion directions, each of which crossed the display in 15 steps of 1.03°, lasting 2 s each, 30 s total. Four 30 s mean luminance (0% contrast) blocks were presented, one after each horizontal or vertical oriented bar crossing. Participants completed four visual field mapping runs (240 time frames each, 6 min) within the same session.
A fixation dot at the center of the visual stimulus changed from red to green at random time intervals and participants were instructed to press a button on a response box every time they detected a color change, to ensure that attention and fixation were maintained. Color changes were every 3 s on average, with a minimum change interval of 1.8 s. We discarded any scan where detection performance dropped below 70% (2 scans of 1 subject). Mann–Whitney comparisons on the number of correct responses revealed no significant difference in performance between age groups (
U
 = 28.000,
p
 = 0.112).
Anatomical and functional preprocessing
All fMRI data were processed and analyzed using BrainVoyager QX software (v2.8.4; Brain Innovation, Maastricht, the Netherlands). First, anatomical data underwent brain extraction and intensity inhomogeneity correction to reduce artifacts and inhomogeneity caused by the magnetic field (Dale et al.
1999
). The two anatomic data sets were aligned to each other and to improve the signal-to-noise ratio, were averaged and re-oriented into AC–PC plane, followed by transformation to the Talairach reference system. The white matter was segmented using an automatic segmentation routine (Kriegeskorte and Goebel
2001
) and small manual adjustments were made, to create surface representations of each hemisphere (meshes). Preprocessing of the functional data included slice time correction, linear trend removal, temporal high-pass filtering (up to 2 cycles per scan), and 3D motion correction (rigid body) with spline interpolation. All volumes were corrected for head movement and motion artifacts between and within functional scans. Then, they were coregistered with each subject's structural scan in Tailarach space and averaged across scans (Nestares and Heeger
2000
).
Population receptive field estimation and analysis
PRF models were estimated from the fMRI data and the time course of visual stimulus positions using a model-driven approach (Dumoulin and Wandell
2008
) and implemented in BrainVoyager QX. Briefly, this approach estimates a neural response model, for each voxel, that best explains each voxel's fMRI response to the stimulus's visual field positions. It models the preferred position (
x
and
y
) and size (standard deviation or σ) of a two-dimensional circular Gaussian function describing the area of the visual field to which the voxel responds. First of all, we generated a binary stimulus aperture containing the visual field positions covered by the stimulus bars in each TR. Next, for a large set of combinations of pRF positions and sizes, we calculated the proportion of the pRF Gaussian overlapping the stimulus aperture at every TR, proportional to the predicted neural response amplitude for this candidate pRF and this stimulus.
Next, each candidate neural response time course was convolved with a canonical BOLD hemodynamic response function to predict the BOLD response time course that the stimulus would yield for this set of pRF parameters. For each voxel, the pRF parameters (preferred position and size) were found that predict the BOLD response time course best correlated to the voxel's response time course, with the variance explained by the model being equivalent to the
R
2
of this correlation.
The preferred position for each voxel was converted to preferred eccentricity and polar angle. These resulting parameter maps were projected onto inflated cortical meshes (Wandell et al.
2000
), and the positions of V1, V2 and V3 were defined as regions of interest (ROIs) in relation to visual field representations (Fig.
2
) (Dougherty et al.
2003
; Sereno et al.
1995
; Wandell et al.
2007
) using BrainVoyager's surface drawing tools. The surface area of these ROIs was determined at the grey-white matter boundary, to avoid the effects of grey matter thinning. To test for effects that are not limited to the visual cortex, the surface area of each hemisphere with these ROIs removed was also determined. Voxels with pRF model variance explained below 0.3 were excluded from further analysis, as were voxels outside of the delineated ROI. We also excluded voxels with pRF eccentricities below 0.5°, since this part of the visual field is difficult to accurately map, and those beyond 6° eccentricity (near the edge of our stimulus area, where pRF properties are not estimated reliably. We attempted to delineate higher order areas, such as V4 and V3A, but in many participants, these could not be identified reliably, because model fits were poor in those instances.
Retinal imaging/thickness acquisition
Measurements of macular retinal thickness (RT), retinal nerve fiber layer thickness (RNFLT) and the ganglion cell-inner plexiform layer thickness (GCIPLT) were obtained with a Cirrus HD-OCT 5000 (Zeiss Meditec, Jena, Germany). All acquisitions were performed by the same trained operator. The volumetric data with 512 × 128 × 1024 voxels were acquired using the Macular Cube protocol centered on the macula. This protocol generates a cube of data through a 6 mm square grid around the fovea centralis by acquiring a series of 128 horizontal B-scans lines each composed of 512 A-scans, with an axial resolution of 5 mm. The standard output display of Cirrus HD-OCT includes a color topographical and a thickness map displaying measurements calculated for each of the nine macular areas corresponding to and defined by ETDRS grid. The global macular RT is defined as the average macular thickness from the inner limiting membrane to the top of the retinal pigment epithelium over the entire 6 × 6 scanned area. Global RT (mean of thicknesses in the nine sections of the ETDRS grid) was determined automatically and analyzed by the Cirrus HD-OCT's internal algorithm. The thickness of two retinal layers was determined as well, RNFLT and GCIPLT. The RNFLT was acquired using the optic disc cube 200 × 200 protocol and analysis uses a 3.46 mm circle centered and around the optic disc. The ganglion cell analysis (GCA) algorithm measured the macular GCIPLT, within a 14.13 mm2 elliptical annulus area centered on the fovea. The global GCIPLT was measured in an elliptical annulus of the macular cube scan mode. Both eyes of each participant were separately scanned and compared, and no statistically significant differences between right and left eyes were found.
Statistical analysis
A MATLAB (version R2019b, Statistics and Machine Learning Toolbox) script was developed to extract the mean pRF size of each visual area for each participant (see Supplementary Materials). We then tested the effect of age on acuity (BCVA), visual field map pRF sizes, visual field map surface areas and retinal thickness measures using Spearman (non-parametric, rank) correlations. For consistency, we used non-parametric statistics throughout as some measures significantly deviated from normal distributions (in Shapiro–Wilk tests). We then tested for relationships between these measures, again using Spearman correlations. Results with
p
 < 0.05 were considered statistically significant.
We also used Bayesian Kendall's tau analysis (van Doorn et al.
2018
) to quantify support for or against the null hypothesis of no relationships between the ranks of these measures. We use van Doorn and colleagues' method for determining priors in this test (implemented in JASP), where the null hypothesis prior is centered at 0 and its spread is estimated from the data.
We also tested a set of general linear models of retinal thickness, V1 surface area, V1 global pRF size, and visual acuity, where each of these was used as a dependent variable, and the remaining three as independent predictors acting together.
Finally, we used a non-parametric bootstrapped mediation analysis (Preacher and Hayes
2008
) to ask whether the major relationships we observe have significant components that are independent of age.
Where two measurements are possible from each subject, either from the two eyes (retinal thickness) or the two hemispheres (pRF size, visual field map surface area), we treat these as two independent measurements. However, where testing for a correlation (or GLM) including a two-eye measure and a two-hemisphere measure, these pairs do not match up. Here we use the mean retinal thickness from both eyes, the mean pRF size from both hemispheres, or the summed surface area from both hemispheres.
Results
Discussion
In this study, we examined the neural basis of the common decline in visual acuity during healthy human aging by measuring visual acuity, retinal thickness, early visual field map surface areas, and their population receptive field (pRF) sizes in 50 adults from 20 to 80 years old. We characterized how these measures changed with age and how they co-varied. Retinal thickness, visual field map surface areas, and visual acuity all decreased with age, while pRF sizes increased. All these changes imply coarser visual processing. However, among these measures of neural structure and function, only functional pRF size significantly predicted visual acuity. Indeed, Bayesian statistics supported the null hypothesis that retinal thickness measures and visual field map surface areas were unrelated to visual acuity. PRF size was in turn predicted only by the visual field map's surface area, which was in turn predicted by retinal thickness measures. However, it is important to note that these relationships were derived by correlations, and all of these changes were strongly correlated with age, a common factor affecting all measures. We did not find significant mediation of changes in acuity by changes in pRF size, pRF size by visual field map surface area, or visual field map surface area by retinal thickness that was separable from effects of age.
In averaging a visual field map's pRF sizes we aim to avoid biases that would result from potential age-related changes in cortical magnification distributions. We, therefore, bin our data by eccentricity then average these bins, so that eccentricity ranges containing more voxels do not contribute more to global mean pRF size estimates. However, eccentricity is not linearly distributed within a visual field map: more voxels have low than high eccentricities. This binning therefore still includes a smaller bias, because most voxels in an eccentricity bin have eccentricities and pRF sizes below the bin mean. The resulting underestimation of pRF sizes would be affected by potential age-related changes in cortical magnification distributions, and also potentially by age-related changes in the variability in pRF size estimates. However, if the variability of pRF size estimates or the slope of the cortical magnification function increased across age (for example as a result of measuring in a smaller visual field map) these effects seem most likely to underestimate global pRF sizes, while we find greater global pRF sizes in older subjects.
We found that only pRF sizes predicted acuity, that pRF sizes were in turn predicted by visual field map surface areas, and that surface areas are in turn predicted by retinal thickness. However, it is too soon to make mechanistic conclusions about the causation of acuity deterioration from this simultaneous set of changes. First, our mediation analyses show that all of these measures follow age, but no measure significantly mediates the effects of age on any other. Second, measurements of pRF size (and indeed any measurement of receptive field size) depend on several neural and non-neural factors. As some of the non-neural factors change with age, it is not possible to unequivocally attribute pRF size increases to a broadening of neural response functions. For example, pRF size estimates may be affected by age-related deterioration of the eye's optical properties. During pRF mapping and acuity measurements our participants wore any corrective lenses assigned to them in the initial ophthalmological examination, but these correct refractive errors only and may not do so perfectly. While participants had no cataracts, it is hard to exclude the possibility of imperfect optics. Age-related changes in the size or rigidity of the pupils may also affect the optical properties of the eye. Similarly, older participants may show a slight instability of fixation that would increase pRF size estimates and may also affect acuity. Notably, deterioration of the eyes' optical properties, fixation stability and pupil responsivity could be expected to reduce visual acuity as well as increasing pRF size. So decreases in acuity and increases in pRF size may have a third cause, rather than increases in pRF size causing decreases in acuity. Speaking against this interpretation, V1 pRF sizes increase from around 1° (standard deviation) in the average 30-year-old to around 1.5° in the average 75-year-old, which would require convolution with an optical blur or a spread of gaze positions with a 1.12° standard deviation to explain. That much blurring would severely disrupt vision and seems unlikely among participants with normal vision, and that much spread of gaze position is unfeasibly large. Furthermore, while 60–80-year-old participants may well show some optical blur and fixation instability, pRF sizes are already increasing in our 40–60-year-old participants, where extensive optical blur and fixation instability are unlikely. But it is nevertheless important to remember that optical imperfections and fixation instability would affect acuity and pRF properties but not visual field map surface area or retinal thickness.
Together, our findings provide an integrated account of changes in perceptual visual acuity, retinal structure, and the structural organization and functional response selectivity of the early visual cortex during healthy aging. All of these measures were closely correlated with age, but not all were closely correlated with each other. One interpretation of this pattern is that deterioration of ascending retinal ganglion cells during healthy aging leads to a specific shrinkage of the cortical target of the ascending visual pathway, the primary visual cortex. This in turn disrupts cortical neural interactions that normally sharpen visual position selectivity, leading to an increase in cortical receptive field sizes that cascades through the early visual hierarchy. If so, these changes in functional neural response selectivity are ultimately responsible for the age-related deterioration of visual perception, but themselves follow retinal deterioration. Therapies targeting the deterioration of the retinal ganglion cells may therefore prevent all these changes, so may be a promising approach to minimize the deterioration of visual perception during healthy aging.
Acknowledgements
The authors thank Bruno Direito, PhD, from the Coimbra Institute for Biomedical Imaging and Translational Research, for his collaboration.
Declarations
Conflict of interest
Not applicable.
Ethics approval
The study was conducted in accordance with the tenets of the Declaration of Helsinki and was approved by the Ethics Committee of the University of Coimbra.
Consent to participate and publication
Written informed consent for the study was obtained, after explanation of the nature and possible consequences of the study.
Open Access
This article is licensed under a Creative Commons Attribution 4.0 International License, which permits use, sharing, adaptation, distribution and reproduction in any medium or format, as long as you give appropriate credit to the original author(s) and the source, provide a link to the Creative Commons licence, and indicate if changes were made. The images or other third party material in this article are included in the article's Creative Commons licence, unless indicated otherwise in a credit line to the material. If material is not included in the article's Creative Commons licence and your intended use is not permitted by statutory regulation or exceeds the permitted use, you will need to obtain permission directly from the copyright holder. To view a copy of this licence, visit
http://​creativecommons.​org/​licenses/​by/​4.​0/​
.
Publisher's Note
Springer Nature remains neutral with regard to jurisdictional claims in published maps and institutional affiliations.