01.12.2014 | Original Article | Ausgabe 6/2014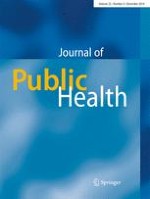 Social inequalities in abdominal obesity in Brazilian women: a nationwide study
Zeitschrift:
Autor:

Diego Augusto Santos Silva
Abstract
Aim
The aim of the present study was to identify the prevalence of abdominal obesity and verify the social inequities in abdominal obesity among women from all regions of Brazil.
Subject and methods
A cross-sectional nationwide study was carried out on abdominal obesity with 13,087 women aged 20–49 years in the National Survey on Demography and Health of Women and Children (PNDS), 2006. Abdominal obesity was identified based on waist circumference (WC). Demographic and socioeconomic data (age, skin color, schooling level, area of residence, geographic region, and private health insurance) were collected. Polytomous logistic regression, using the multinomial logit model was used for multivariate analysis.
Results
The mean WC value was 83.9 cm (SD = 0.1). The likelihood of women to be within the highest quintile of waist circumference value was approximately three times higher for black skin women, with less schooling level, and in the age group from 30 to 39 years and more than six times in the age group from 40 to 49 years.
Conclusion
Strategies to reduce such inequities can be useful not only for improving social indicators but also health indicators in the Brazilian population.