06.10.2017 | Original Article | Ausgabe 1/2018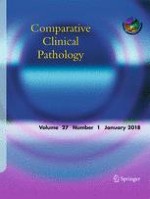 Subclinical nodular goiter associated with Hurthle cell, papillary, and adenomatoid hyperplasic nodules in the dromedary camel in the Sultanate of Oman
Zeitschrift:
Autoren:

Mohamed H. Tageldin, Hassan Abu Damir, Mansour F. Hussein, Elhag A. Omer, Mahmoud A. Ali, Adam M. Adam, Remya R. Nir
Abstract
Goiter and other iodine deficiency disorders (IDD) are a worldwide problem. IDD prevalence rate of 52.7% has been reported among school children aged 9–12 years in Dhofar region, (WHO
2006
) which resides adjacent to the Arabian Sea in the Sultanate of Oman. In a preliminary survey, 39.5 and 44.7% of the dromedary camels in the region exhibited low total T
3
and total T
4,
respectively. An abattoir survey was carried out and the dromedary camels examined during the anti-mortem were clinically normal. Post-mortem examination of both thyroid lobes of slaughtered camel, revealed normal weight but 69.5% of these showed nodules of various sizes, numbers, shapes, colors and consistency in the capsular region and or deeply embedded in thyroid tissue. A wide range of histopathological changes were seen and categorized according to the dominant histological pattern into Hurthle cell nodules, papillary hyperplastic nodules, adenomatoid hyperplastic nodules and nodular colloid goiter only. The Hurthle cell nodules were either solid encapsulated cords or follicular variants of well-encapsulated macrofollicles and microfollicles of different sizes and shapes, and the Hurthle cells were seen lining the colloid follicles or forming the solid cords. In the papillary hyperplastic nodules, majority of cases lack capsule, the fronds were multiple and variable, and usually do not compress the surrounding parenchyma. Adenomatoid hyperplastic nodules formed of encapsulated follicular nodules with various sizes and shapes and containing little or no colloid. The nodular colloid goiter along with the papillary hyperplastic nodules had psammoma-like bodies without lamellation. No evidence was found of capsular or vascular invasion apart from one case which showed limited vascular and capsular invasion. The histopathology and immunohistochemistry using specific thyroid tumor markers did not reveal malignancy in all suspected cases. Total and free serum T
3
and T
4
and serum selenium were comparatively low, and CK enzyme was high in affected camels. The causes of the subclinical nodular goiter, probably multifactorial, were discussed.