01.12.2018 | Research article | Ausgabe 1/2018 Open Access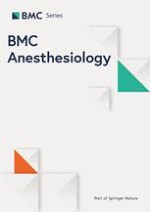 The analgesic efficacy of intravenous regional anesthesia with a forearm versus conventional upper arm tourniquet: a systematic review
Zeitschrift:
Autoren:

Valerie Dekoninck, Yasmine Hoydonckx, Marc Van de Velde, Jean-Paul Ory, Jasperina Dubois, Luc Jamaer, Hassanin Jalil, Björn Stessel
Abstract
Background
The main objective of this review is to perform a systematic review and meta-analysis of the existing evidence related to the analgesic efficacy with the use of conventional, upper arm intravenous regional anesthesia (IVRA) as compared to a modified, forearm IVRA in adult patients undergoing procedures on the distal upper extremity.
Methods
MEDLINE, EMBASE and CENTRAL (Cochrane) databases were searched for randomized controlled trials published in English, French, Dutch, German or Spanish language. Primary outcomes of interest including description of quality level of anesthesia and onset of sensory block were assessed for this review. Dosage of the local anesthetic, local anesthetic toxicity and need for sedation due to tourniquet pain were considered as secondary outcomes.
Results
Our literature search yielded 3 papers for qualitative synthesis. Four other articles were added into a parallel analysis of 7 reports that provided data on the incidence of complications and success rate after forearm IVRA. Forearm IVRA was found to be as efficient as upper arm IVRA (RR = 0.98 [0.93, 1.05],
P
 = 0.78), but comes with the advantage of a lower need for sedation due to less tourniquet pain.
Conclusion
Our results demonstrate that forearm IVRA is as effective in providing a surgical block as compared to a conventional upper arm IVRA, even with a reduced, non-toxic dosage of local anesthetic. No severe complications were associated with the use of a forearm IVRA. Other benefits of the modified technique include a faster onset of sensory block, better tourniquet tolerance and a dryer surgical field.
Registration of the systematic review
A review protocol was published in the PROSPERO register in November 2015 with registration number
CRD42015029536
.