01.12.2017 | Research article | Ausgabe 1/2017 Open Access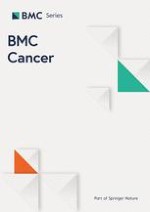 The germline variants in DNA repair genes in pediatric
medulloblastoma

: a challenge for current therapeutic strategies
Zeitschrift:
Autoren:

Joanna Trubicka, Tomasz Żemojtel, Jochen Hecht, Katarzyna Falana, Dorota Piekutowska- Abramczuk, Rafał Płoski, Marta Perek-Polnik, Monika Drogosiewicz, Wiesława Grajkowska, Elżbieta Ciara, Elżbieta Moszczyńska, Bożenna Dembowska-Bagińska, Danuta Perek, Krystyna H. Chrzanowska, Małgorzata Krajewska-Walasek, Maria Łastowska
Wichtige Hinweise
Electronic supplementary material
The online version of this article (doi:
10.​1186/​s12885-017-3211-y
) contains supplementary material, which is available to authorized users.
Abstract
Background
The defects in DNA repair genes are potentially linked to development and response to therapy in
medulloblastoma
. Therefore the purpose of this study was to establish the spectrum and frequency of germline variants in selected DNA repair genes and their impact on response to chemotherapy in
medulloblastoma
patients.
Methods
The following genes were investigated in 102 paediatric patients:
MSH2
and
RAD50
using targeted gene panel sequencing and
NBN
variants (p.I171V and p.K219fs*19) by Sanger sequencing. In three patients with presence of rare life-threatening adverse events (AE) and no detected variants in the analyzed genes, whole exome sequencing was performed. Based on combination of molecular and immunohistochemical evaluations tumors were divided into molecular subgroups. Presence of variants was tested for potential association with the occurrence of rare life-threatening AE and other clinical features.
Results
We have identified altogether six new potentially pathogenic variants in
MSH2
(p.A733T and p.V606I),
RAD50
(p.R1093*),
FANCM
(p.L694*),
ERCC2
(p.R695C) and
EXO1
(p.V738L), in addition to two known
NBN
variants. Five out of twelve patients with defects in either of
MSH2
,
RAD50
and
NBN
genes suffered from rare life-threatening AE, more frequently than in control group (
p
= 0.0005). When all detected variants were taken into account, the majority of patients (8 out of 15) suffered from life-threatening toxicity during chemotherapy.
Conclusion
Our results, based on the largest systematic study performed in a clinical setting, provide preliminary evidence for a link between defects in DNA repair genes and treatment related toxicity in children with
medulloblastoma
. The data suggest that patients with DNA repair gene variants could need special vigilance during and after courses of chemotherapy.