01.03.2013 | North American Society of Head and Neck Pathology Companion Meeting, March 3, 2013, Baltimore, Maryland | Ausgabe 1/2013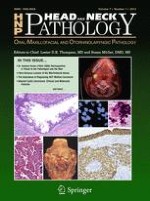 The Importance of Diagnosing NUT Midline Carcinoma
Zeitschrift:
Autor:

Christopher A. French
Abstract
NUT midline carcinoma (NMC) is an aggressive subset of squamous cell carcinoma, genetically defined by rearrangement of the
NUT
gene. The rearrangements most often take the form of
BRD4
-
NUT
fusions, and in a minority of cases,
BRD3
-
NUT
or
NUT
-
variant
fusions. The simple karyotypes of NMCs, in contrast to the complex ones of typical squamous cell carcinoma, suggest an alternate, genetic shortcut to squamous cancer. Although originally thought to be a disease of the mediastinum, NMC frequently (35 %) arises in the head and neck. Diagnosis is made simply by demonstration of nuclear immunoreactivity to NUT protein, and ancillary studies to characterize the fusion oncogene, though not required for diagnosis, are recommended. The prognosis is dismal, with a 6.7 month median survival, and treatment with conventional chemotherapeutic regimens is ineffective. The oncogenic mechanism of the dual bromodomains and the p300-binding portion of BRD4-NUT is to sequester p300 to localized regions of chromatin, leading to global transcriptional repression and blockade of differentiation. Two therapies which target this mechanism have emerged, including bromodomain inhibitors (BETi) and histone deacetylase inhibitors (HDACi), both of which induce differentiation and growth arrest of NMC cells, both in vitro and in vivo. BETi is available to adults with NMC through a phase I clinical trial, and clinical response to HDACi has been demonstrated in pediatric patients. The emergence of these promising targeted therapies gives hope that NMC may one day be effectively treated and provides a strong rationale for diagnostic testing for NMC.