11.11.2017 | Original Article | Ausgabe 1/2018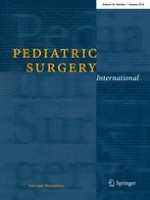 The initial prophylactic antibiotic usage and subsequent necrotizing enterocolitis in high-risk premature infants: a systematic review and meta-analysis
Zeitschrift:
Autoren:

Xue Fan, Li Zhang, Jun Tang, Chao Chen, Juan Chen, Yi Qu, Dezhi Mu
Abstract
Objective
To investigate the correlation between the initial prophylactic antibiotic use and the subsequent NEC in high-risk premature infants.
Methods
We performed a literature search of PubMed, EMBASE, the Cochrane Central Register of Controlled Trials (CENTRAL), and the Web of Science, and nine studies with a total of 5207 infants were selected for inclusion in this study.
Results
The pooled estimate for the seven studies combined indicating that prophylactic antibiotic usage was associated with a non-significant trend toward increased incidence of NEC [odds ratio (OR) 0.75; 95% confidence interval (CI) 0.26–2.17], and prolonged exposure to prophylactic antibiotics, compared with limited prophylactic antibiotic use, was associated with a significant trend toward the risk of increasing incidence of NEC (OR 1.31; 95% CI 1.08–1.59).
Conclusion
Current evidence does not support the use of prophylactic antibiotics to reduce the incidence of NEC for high-risk premature infants.