01.12.2014 | Original Article | Ausgabe 6/2014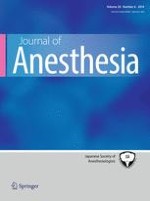 The mu opioid receptor activation does not affect ischemia-induced agonal currents in rat spinal ventral horn
Zeitschrift:
Autoren:

Hiroyuki Honda, Hiroshi Baba, Tatsuro Kohno
Abstract
Purpose
Opioid-induced spastic paraplegia after transient spinal cord ischemia during aortic surgery has been reported. Opioids modulate neurotransmission through mu (μ) opioid receptors (MORs) in the spinal ventral horn. However, their effects during ischemic insult are not understood.
Methods
The effects of the selective μ agonist [
d
-Ala
2
,-
N
-Me-Phe
4
, Gly
5
-ol]enkephalin (DAMGO) on ischemia-induced agonal currents were examined in the spinal lamina IX neurons of neonatal rats by using the whole-cell patch-clamp technique. Ischemia was simulated in vitro by oxygen/glucose deprivation.
Results
DAMGO (1 μM) produced outward currents in ~60 % of spinal lamina IX neurons at a holding potential of −70 mV. Superfusion with ischemia-simulating medium elicited an agonal current. The latency was 457 ± 18 s. Despite its neuromodulatory effects, DAMGO did not significantly change the latencies of the agonal currents with (440 ± 23 s) or without (454 ± 33 s) DAMGO-induced currents.
Conclusion
Activation of MORs does not influence ongoing ischemia-induced neuronal death. Our findings indicate that MOR agonist administration should be suitable as an anesthetic during aortic surgery.