01.12.2015 | Research article | Ausgabe 1/2015 Open Access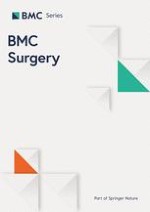 The use of autologous fascia lata graft in the laparoscopic reinforcement of large hiatal defect: initial observations of the surgical technique
Zeitschrift:
Autoren:

Milos Bjelovic, Tamara Babic, Bratislav Spica, Dragan Gunjic, Milan Veselinovic, Violeta Bascarevic
Wichtige Hinweise
Competing interests
The authors declare that they have no competing interests.
Authors' contributions
MB conceived the study and carried out all procedures. TB drafted the manuscript and performed statistical analysis. BS participated in the design of the study, and carried out laparoscopic procedures as the first assistant. DG participated in harvesting of the fascia lata, and helped in the design of the study. MV participated in coordination and helped to draft the manuscript. VB carried out harvesting of the fascia lata. All authors read and approved the final manuscript.
Abstract
Background
Even though there is no consensus, many authors believe that in the cases of large hiatal defects, structurally altered crura and/or absence of peritoneal lining, a crural reinforcement should be performed. Reinforcement could be performed with different techniques and different type of mesh, either synthetic or biologic. The disadvantages of mesh repair include the possibility of serious complications and increased costs especially in the usage of composite or biologic mesh.
Methods
The study includes 10 cases of reinforced primary suture line of the pillars with autologous fascia lata, in elective laparoscopic repair of the giant PEH with a large hiatal defect and friable crura. After intraopreative confirmation of the large hiatal defect (hiatal surface area of more than 8 cm2) and friable crura, an autologous fascia lata graft was harvested in the usual manner and placed in on-lay fashion to reinforce the pillar suture line. We analyzed surgical technique, complications, and initial follow-up of the patients.
Results
Average hiatal surface area (HSA) in our series was 10.6 cm2 (range 8.1 to 14.4 cm2). The average duration of operation was 203.9 min/3.4 hours (range 160–250 min). Except for a mild hematoma in the harvesting region that resolved spontaneously, there were no procedure related complications and 30 days mortality rate was zero. The average postoperative length of stay was 6.5 days (5–8 days). Out of 10 patients, 5 completed the annual follow-up visit, while 8 completed a 6- month follow-up visit. So far there is no hernia recurrence and/or problems with swallowing function. However, one patient has felt a mild discomfort in the harvested region that does not influence normal daily activities.
Conclusions
Autologous fascia lata graft hiatal reinforcement represents a technically feasible, easy, and available option for the on-lay reinforcement of large hiatal defects with friable crura in the laparoscopic repair of giant PEHs.