01.12.2016 | Research | Ausgabe 1/2016 Open Access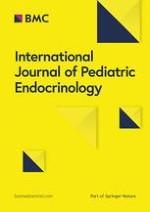 Type 1 diabetes through two lenses: comparing adolescent and parental perspectives with photovoice
Zeitschrift:
Autoren:

Ashby Walker, Desmond Schatz, Cathryn Johnson, Janet Silverstein, Shannon Lyles, Henry Rohrs
Wichtige Hinweise
Competing interests
The authors declare that they have no competing interests.
Authors' contributions
AFW designed the study, collected data, researched data, and wrote, reviewed, and edited the manuscript. DAS, HJR, and JHS contributed to project design, contributed to ongoing discussion, aided in clinical support for patient recruitment, reviewed data, and reviewed and edited the manuscript. CJ contributed to methodological design and oversight, reviewed data, guided data analysis, and reviewed and edited the manuscript. SPL aided in clinical support for patient recruitment, helped develop coding typologies, provided oversight of human subject interactions, and reviewed and edited the manuscript. AFW is the guarantor of this work, and as such, had full access to all data in the study and takes responsibility for the integrity and accuracy of data analysis. Part of this research was presented at the 2015 75th ADA meetings in Boston, MA in abstract and oral presentation. All authors read and approved the final manuscript.
Authors' information
AFW
serves as Assistant Professor in the Department of Health Outcomes and Policy at the University of Florida in the College of Medicine and the Institute for Child Health Policy and also holds a courtesy appointment in the Department of Pediatrics. Her area of focus as a medical sociologist is on reducing health disparities in pediatric Type 1 diabetes and the role that social capital plays in informing childhood inequalities in health outcomes.
DAS
is Professor and Associate Chairman of Pediatrics, Medical Director of the UF Diabetes Institute, and Director of the Clinical Research Center, at the University of Florida, Gainesville. His primary research is in Type 1 diabetes with a focus on the prediction, natural history, and prevention of the disease, as well as the management of children and adolescents with Type 1 diabetes. He is the P resident-elect of the American Diabetes Association, and will serve his term as president in 2016.
CJ
serves as the Senior Associate Dean of the Laney Graduate School at Emory University and Professor in the Department of Sociology. Her expertise includes social psychology, organizations, identity processes, and emotions, with special emphasis on the study of legitimacy processes within groups and organizations.
JHS
is the Chief of Pediatric Endocrinology in the College of Medicine, holds varied roles as a diabetes clinician, and has served on several committees, including the executive committee of the American Academy of Pediatrics and the Children's Workgroup of the National Diabetes Education Program. She focuses on Type 1 diabetes, Type 2 diabetes, obesity, psychosocial issues in pediatric chronic disease, general endocrinology, lipid disorders, and patient advocacy.
SPL
is a Registered Nurse Specialist (BSN, RN, CDE) at the University of Florida in the Department of Pediatrics. In addition to her clinical role as a nurse educator, she serves regularly at diabetes camps and is involved in many advocacy capacities for Type 1 diabetes.
HJR
serves as Assistant Professor at the Department of Pediatrics at the University of Florida in the College of Medicine. He is the Associate Director for the Pediatric Residency Program. His areas of research focus on various aspects of endocrine diseases and also psychosocial experiences and complications related to Type 1 diabetes.
Abstract
Background
Parental support and care-coordination are vital for youth with type 1 diabetes (T1D) in achieving positive health outcomes. Yet, studies are rarely designed to identify factors that influence parent/youth collaboration or how their perspectives about diabetes may vary.
Methods
Photovoice was used to explore how adolescent and parental perspectives on T1D compare to identify factors that may influence care collaboration. A follow-up study was conducted where parents/caregivers of adolescents with T1D were prompted to take and explain five photos capturing what diabetes meant to them. Selection criteria included having a child 12–19 years with a diagnosis of T1D (≥2 years since onset). Thirty-three parents/caregivers participated (24 mothers, six fathers, two grandmothers, and one grandfather of 19 sons/14 daughters; mean age 15 years [±2.1]; mean disease duration 6 years [±3.3]). Content analysis was used to compare parent/caregiver photos with those captured by adolescents in a previous study with 40 youth participants (20 males/20 females; mean age 15 years [±1.9]; mean disease duration 6 years [±3.9]) through a method of constant comparison. Socioeconomic status was measured by household income and parental education. Glycemic control was captured by HbA1c. Mann-Whitney U testing was used to compare representations across demographic variables (202 youth photos, 153 parental photos).
Results
Over half of adolescents and parents took at least one photo of: (1) diabetes supplies (2) food (3) coping mechanisms/resilience and (4) disease encroachment. Parents and adolescents similarly framed food-related issues as a major source of frustration in diabetes care. However, narratives about diabetes supplies differed: adolescents framed supplies as a negative aspect of diabetes whereas parents tended to celebrate supplies as improving life. Also, images of disease encroachment differed: adolescents took photos of their bodies to depict how diabetes trespasses on their lives whereas parents took pictures of clocks to denote sleep disruption or exhaustion from constant care demands.
Conclusions
Food-related issues and varying views on supplies may trigger diabetes-specific conflicts. Contrasting viewpoints about the most cumbersome aspects of diabetes may provide insight into differential paths for interventions aimed at offsetting the burdens of T1D for adolescents and parents.