01.12.2017 | Review | Ausgabe 1/2017 Open Access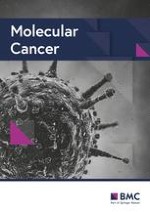 Vasculogenic mimicry signaling revisited: focus on non-vascular VE-cadherin
Zeitschrift:
Autoren:

Daniel Delgado-Bellido, Santiago Serrano-Saenz, Mónica Fernández-Cortés, F. Javier Oliver
Background
Solid tumors require blood vessels for growth, and access to oxygen and nutrients and anti-angiogenic therapies are designed to target vascular ECs to form tumor blood vessels. Whereas numerous preclinical models have recognized the efficient use of angiogenesis inhibitors to limit tumor growth, collectively only a growth delay has been achieved in the clinic [
1
]. This is in part due to the fact that tumor vasculature is more complex than expected and alternative mechanisms for re-vascularization might be taking place. A large number of studies in pathology have described a high degree of plasticity associated with aggressive cancer. In 1999, Maniotis et al. [
2
] presented a new interpretation of previous findings describing cancer cells covering non-endothelial vascular channels that contained red blood cells. This was the initial report defining tumor cell VM as the de novo formation of perfusable, matrix rich, vasculogenic-like network in 3D matrix in vitro, which resembled the matrix-rich network observed in aggressive tumors in patients [
3
]. The initial morphological, clinical and molecular characterization of VM was performed using human melanoma as a model. In addition to melanoma, vasculogenic mimicry (VM) has also been characterized in carcinomas of lung, prostate, bladder, kidney, ovary and breast, sarcomas and gliomas. Kaplan-Meier survival analyses indicated that patients with VM in their tumors have a poor clinical outcome compared with patients with tumors that do not exhibit VM. Table
1
shows the main differences at molecular level between blood vessels and VM networks.
Table 1
Differences in tumor-VM and ECs-dependent angiogenesis and VM inducer and suppressor molecules
Normal endothelial cells

Vasculogenic mimicry cells

Similarities

VE-cadherin positive

E-selectin positive

CD34 positive

Differences

TIE-2 positive

TIE-2 negative

VEGFR-1, 2 positive

VEGFR-1, 2 negative

P-selectin positive

P-selectin negative

VCAM-1/CD106 positive

VCAM-1/CD106 negative

CD31/PECAM-1 positive

CD31/PECAM-1 negative *13 (Subpopulations PECAM-1 positive melanoma cells)

TIE-1 negative

TIE-1 positive

VEGF-C negative

VEGF-C positive

Neuropilin 1 negative

Neuropilin 1 positive

Endoglin negative

Endoglin positive

Tissue factor pathway inhibitor 1 (TFPI1) negative

Tissue factor pathway inhibitor 1 (TFPI1) positive

Laminin 5 gamma 2 chain (LAMC2) negative

Laminin 5 gamma 2 chain (LAMC2) positive

EphA-2 negative

EphA-2 positive
The distinctive pattern of VM networks appears to recapitulate embryonic vasculogenesis patterns and this resemblance suggests that aggressive tumor cells convert to an undifferentiated, embryonic-like phenotype. Gene expression analysis demonstrated that aggressive melanomas capable of VM express genes associated with multiple cellular phenotypes, including characteristics of epithelial cells, endothelial cells and fibroblasts [
4
,
5
]. However, the different molecular mechanisms that generate VM are still unclear. One of the most conspicuous molecular determinants in the acquisition of VM capabilities is the expression of the endothelial cell marker VE-cadherin. In the current review, we focus on the connection between VE-cadherin and its consequences in the gain of the VM phenotype which is also associated with cell plasticity and trans-differentiation of cancer stem cells present in VM.
VE-cadherin in VM
VE-cadherin, Notch or hypoxia-inducible factor 1-α (HIF1-α) are among the most relevant signaling molecules involved in the three leading pathways that control VM: vascular, hypoxia and embryonic/stem cell signaling pathways. All these pathways are complex and interconnected, with a large number of different molecules performing together and modulating the outcome effect in a different way (reviewed in [
6
–
9
]) (Fig.
1
).
×
VE-cadherin is a trans-membrane protein commonly expressed in endothelium, where it is responsible for cell-cell adhesion [
10
]. Although VE-cadherin used to be considered specific for ECs, its expression has been strongly associated with aggressiveness and VM in melanoma. Surprisingly, VE-cadherin can be found in highly aggressive tumor cells but not in non-aggressive ones. Moreover, its down-regulation in melanoma implied the loss of VM formation [
11
].
VE-cadherin is the best known cadherin in the context of vascular adhesion but the insights of its role in VM in aggressive tumor cells are only beginning to be well understood. The fact that VE-cadherin is key to understand VM was discovered by Hendrix and col in 2001 [
12
]. In this seminal study, they showed that VE-cadherin is expressed in aggressive melanoma cells while its knockdown prevented VM. On the other hand, in vivo experimental models also demonstrated that mice deficient in VE-cadherin die by severe vascular defects [
13
]. The reason for the expression of VE-cadherin in non-endothelial cells is mostly unclear, but in hepatocellular carcinoma (HCC) it may be due the to nuclear localization of Twist1. This transcription factor has been shown to bind VE-cadherin promoter, enhancing its activity [
14
]. In melanoma, VE-cadherin expression has been related with the activation of the Nodal/Notch pathway [
15
,
16
] and hypoxia-inducible factors [
17
,
18
]. Finally, it has been suggested that human epidermal growth factor receptor 2 (HER2) up-regulates VE-cadherin in breast cancer cells [
19
].
Structurally, VE-cadherin has five extracellular calcium domains (ECD:aa46-aa599) that can form cis-homodimers with other VE-cadherin or similar dimers in trans- through ECDI-ECDIV, that present on adjoining cells to support cell-to-cell recognition and adhesion. ECDV is required for binding to VE-PTP. VE-cadherin also has a trans-membrane domain (TMD: aa600-aa620) and an intracellular domain involved in post-translational modifications (PTM) (Fig.
2
). In fact, 13 possible residues of VE-cadherin that can be phosphorylated in humans (Uniprot KB/Phosphosite Plus) have been described but the most relevant ones, and also the most studied, are residues Y658, S665, Y685 and Y731. Phosphorylation in S665 of VE-cadherin takes place through serine/threonine kinase P21 protein (Cdc42/Rac)-activated kinase 1 (PAK) in response to VEGF that also promotes clathrin-dependent internalization of VE-cadherin [
20
]. Recent studies have shown that Y658 residue is a target of focal adhesion kinase (FAK) in tumor-associated endothelial cells, and identify FAK as a key regulator of endothelial cell barrier function controlling tumor metastasis [
21
]. Tyrosine phosphorylation of VE-cadherin Y685 causes its internalization mediated by Src, thus playing an important role in in vivo vascular permeability [
22
,
23
]. In contrast, mice expressing Y731F VE-cadherin mutant display deficient neutrophil-extravasation; indeed, phosphorylation of Y731 is induced through inflammatory mediators, such as histamine, that promote neutrophil-extravasation [
23
] (see Fig.
2
).
×
Vascular endothelial growth factor A (VEGF-A) is known to contribute to endothelial cell proliferation, including tumor-induced angiogenesis, and has been associated to VM in ovarian carcinoma and melanoma [
8
]. In fact, in ovarian cancer cells VEGF-A may up-regulate most of the signaling molecules in the VE-cadherin signaling cascade: VE-cadherin itself, Epithelial cell kinase (EphA2) and MMP-2 [
7
]. We will analyze below different key pathways and molecules involved in VM and their connection with VE-cadherin.
VE-cadherin-dependent and independent signaling in VM
Vasculogenic mimicry and tumor microenvironment
CSCs in vasculogenic mimicry
VM requires an adaptive response of tumor cells and cellular "plasticity" is an essential property for this purpose. Cancer Stem Cells (CSCs) are by definition the tumor cell subpopulation with highest plasticity. In this context, "plasticity" is defined as the capability of pluripotent CSCs for trans-differentiation.
In 1994, Lapidot et al. and Caceres-Cortes et al. reported the first evidence of cancer initiating stem-like cells by injection of different leukaemia cell subpopulations in mice [
86
,
87
]. Today CSCs have been determined in a wide range of solid tumors like breast [
88
], gliomas [
89
], prostate [
90
], melanoma [
91
,
92
], lung [
93
,
94
], colon [
95
–
97
], pancreatic [
98
], head and neck squamous cell [
99
], liver [
100
], non-melanoma skin cancer [
101
] and renal carcinoma [
102
].
CSCs represent an aggressive subpopulation of tumor cells with capacity of self-renewal, multi-lineage differentiation (stemness), tumor initiation and resistance of radio- and chemotherapy [
89
,
103
,
104
]. CSCs phenotype is enhanced in perivascular niche of several tumors and this correlates with aggressiveness [
105
,
106
]. Furthermore, CSCs may trans-differentiate to ECs. This fact demonstrates the implication of CSCs in vascularization [
107
]. Also, several works have linked CSCs with VM capacity in different tumor types. In triple-negative breast cancer (TNBC), VM capacity statistically correlates with CD133 CSCs marker expression [
108
], and this co-relation was also demonstrated in other tumors like uveal and cutaneous melanoma, gliomas, hepatocellular carcinoma (HCC), non-small cell lung cancer (NSCLC) [
108
–
110
].
To have a global view of the importance of VM and its interaction with CSCs we summarized above some key findings linking these two aspects in different tumor types:
Melanoma
Aggressive melanoma produces VM and it is inhibited by down-regulation of VE-cadherin [
111
]. Melanoma cancer stem cells (MCSCs) are identified by the expression of CD133 and ABCB5. These cells express VE-cadherin and they are located in the perivascular niche and implicated in VM [
112
]. MCSCs also express VEGFR-1 and are required for VE-cadherin-dependent VM and tumor growth [
25
]. Anti-VEGF treatments have been proposed in the treatment of melanoma although with low efficiency to target abnormal tumor angiogenesis, due to the acquisition of anti-VEGF by VM induction. This process is mediated by HIF-1α and involves MCSC in perivascular niche [
34
]. It has also been reported that PECAM1+/VEGFR-2– subpopulation of melanoma cells induces VM in a PECAM1-dependent process. This process is also dependent on AP-2α, a transcription factor that represses PECAM1 expression: while knockdown of AP-2α up-regulates PECAM1 and promotes tube formation, lentiviral re-introduction of AP-2α down-regulates PECAM1 and inhibits tube formation [
113
].
Gliomas
VM is proposed as an important target in glioblastoma because abnormal vasculature induces the loss of blood–brain barrier and contributes to brain edema formation. The expression of VE-cadherin in glioblastoma stem-like cells (GSLCs) has been reported [
114
]. Based on this premise, Mao et al. demonstrated that VE-cadherin is up-regulated under hypoxic conditions in a way dependent on HIF-1α and HIF-2α and contributes to hypoxia-induced VM [
115
]. In addition, GSLCs express vascular endothelial growth factor receptor-2 (VEGFR-2) as well as other VM markers. shRNA for VEGFR-2 inhibits tube-like structures formation, VM and vascularization, but also self-renewal and tumor xenograft initiation. For this reason, VEGFR-2 has been proposed as an essential component for the maintenance of stemness capacity and vascularization. VEGFR-2 is necessary for the trans-differentiation of GCSCs to mural cells [
116
–
118
]. Other stem-like cells implicated in abnormal vasculogenesis of gliomas are endothelial progenitor cells (EPCs). These cells are recruited from bone marrow and contribute to tumor vascularization. Strictly, EPCs are not tumoral but stem-like cells with trans-differentiation capacity that contribute to tumors aggressiveness [
119
].
Hepatocellular Carcinoma (HCC)
The transcription factor Twist1 is frequently expressed in the nucleus of HCC cells. Up-regulation of Twist1 enhances VM and its knockdown prevents VM formation. Twist1 increases HCC cells plasticity by up-regulation of VE-cadherin and down-regulation of E-cadherin [
14
]. Another report also suggests that Twist mediates hypoxia-induced VM [
48
].
Mesenchymal phenotype and poor differentiation in hepatocarcinoma correlates with VM acquisition. No co-relation has been shown between expression of stemness genes and intrinsic VM capacity and it has been proposed that the role of stemness genes in VM capacity of HCC cells is likely to depend on differentiation status [
120
].
Non–small cell lung cancer (NSCLC)
In NSCLCs, a Hoechst 33342 dye effluxing side population (SP) cells present features of CSCs. These cells display tubular formation capacity in matrigel [
121
,
122
]. The knockdown of Gli-l (a transcription factor that positively regulates Sox2) by siRNA inhibits VM and stemness capacities of SP cells [
123
]. YAP1 also regulates the expression of Sox2 by physical interaction with Oct4. NSCLC presents high levels of YAP1 and depletion by knockdown reduces tubules formation capacity in matrigel SP cells [
124
].
Breast cancer
Breast cancer stem cells (BCSCs) are identified by CD24-, CD44+ and ALDH+ markers or mammosphere-forming capacity. ALDH+, but not ALDH- cells, have VM formation capacity in matrigel. Epidermal growth factor (EGF) mediates this capacity and can be suppressed by EGFR inhibitor gefitinib or shEGFR. Hsp27 is downstream regulated by EGFR pathway and modulates EGF-mediated VM capacity of BCSCs. Therefore, knockdown of Hsp27 suppresses VM capacity of ALDH+ cells [
125
]. Ubiquitin-specific protease 44 (UPS44) also contributes to VM formation whereas UPS44 knockdown inhibits VM formation of CSCs in vivo [
126
].
Targeting vasculogenic mimicry
As the use of anti-angiogenic therapies against tumor development has had limited results there is a critical need to attempt novel anti-tumor angiogenesis strategies centered in targeting alternative mechanism used by the tumor cells (by way of trans-differentiation) to become pseudo-vascular cells leading to VM.
Numerous studies have attempted to specifically disable VM in different tumor models (Table
3
). In a recent report our group has shown that the use of PARP inhibitors was effective in preventing melanoma-derived lung metastasis in a murine model and this effect was in part explained by PARP inhibitor's faculty to counteract VM through down-regulation of VE-cadherin concomitant to the loss of EMT attributes linked to a decreased vimentin expression and Integrin-Linked Kinase/GSK3β axis down-regulation [
127
].
Table 3
Pharmacological agents targeting VM
| Therapeutic agents | Molecular target or function | Effect on VM | References |
| --- | --- | --- | --- |
| Bevacizumab (Avastin) | VEGF | no effect | |
| PARP inhibition | VE-cadherin | inhibition | |
| Thalidomide (Thalomid) | TNFα; ROS producer | inhibition | |
| TNP-470 (AGM-1470) | TK inhibition | no effect | |
| Endostatin (rhEndostatin, Endostar) | integrin signaling | no effect | |
| Rapamycin (Rapamune) | mTOR, VEGF | inhibition | |
| Curcumin | EPHA2, PI3K, MMPs | inhibition | |
| Isoxanthohumol | TGF-β signaling | inhibition | |
| Vadimezan (ASA404, AS1404, DMXAA) | MAPK, VE-cadherin | inhibition | |
| Resveratrol | VEGF-R1, VEGF-R2 | inhibition | |
| Ginsenoside Rg3 | VE-cadherin/MMPs/EPHA2 | inhibition | |
The Rho kinase inhibitors fasudil and Incarvin C have also been shown to prevent VM of B16 mouse melanoma cells and HCC in Matrigel and xenograft tumor growth as therapeutic option for targeting cancer VM [
128
,
129
]. An interesting study by Orechia et al. [
130
] has shown the syndecan-1 co-expression with VM markers in melanoma patient cell lines having vasculogenic/stem-cell like phenotype; melanoma cells lose their ability to form tubule-like structures in vitro after blocking syndecan-1 activity by the specific human recombinant antibody, OC-46 F2 while the combined therapy using OC-46 F2 and L19-IL2, led to a complete inhibition of tumor growth until day 90 from tumor implantation in 71% of treated mice [
130
].
Another example of VM targeting has used TNBC as proof-of-concept. TNBC cells remaining after conventional chemotherapy readily form VM, which leads to the relapse of cancer after treatment. Functional liposomes vincristine plus dasatinib modified by a targeting molecule DSPE-PEG2000-c(RGDyK), exhibited the superior performances in the enhancement of cellular uptake via targeted action and the induction of apoptosis and removal of VM channels in the TNBC-bearing mice [
131
].
A similar approach has been reported for VM in glioblastoma multiforme (GBM). Current prognosis of GBM remains extremely poor attributed to the formation of VM and the presence of glioma initiating cells (GICs) responsible for resistence to current therapies and disease recurrence; paclitaxel-loaded liposomes modified with a peptide R8-c(RGD) (R8-c(RGD)-Lip) were used for the treatment of glioma [
132
]. An in vitro cellular uptake study proved the strongest targeting ability to be that of R8-c(RGD)-Lip to glioma stem cells. Drug loaded R8-c(RGD)-Lip exhibited an efficient anti-proliferation effect on BCSCs and could induce the destruction of VM channels in vitro. The pharmacodynamics study demonstrated that R8-c(RGD)-modified drug-loaded liposomes achieved both anti-VM and anti-BCSC effects in vivo. Finally, no significant cytotoxicity of the blood system or major organs of the drug-loaded liposomes was observed under treatment dosage in the safety evaluation. In conclusion, all of the results proved that R8-c(RGD)-Lip was a safe and efficient anti-glioma drug delivery system [
132
].
Conclusion
This review features on one specific strategy that tumor cells utilize to escape from the hostile microenvironment through trans-differentiation leading to a "caricature" of endothelial-like cells, VM. This trans-differentiation allows the tumor mass to evolve to an irrigated, avascular network to avoid shortage of nutrients and oxygen inside the tumor. As we have reviewed, this phenotype change is pertinent to aggressive metastatic behavior and has functional and translational relevance. The molecular pathways underlying VM have lighted up VE-cadherin as a critical component of VM and, therefore it needs to be taken into account for the development of innovative treatment strategies that target tumor cell plasticity and the metastatic properties affiliated with disease recurrence and drug resistance. As a prominent future challenge, new concepts are needed to discern the specific signaling peculiarities of VE-cadherin (different from its role in the endothelial context) affecting tumor cell biology and related to VM/aggressive development. Particular attention is needed to identify the precursors of tumor cells committed to acquire VE-cadherin expression/VM phenotype and to the interactome connecting VE-cadherin with cell trans-differentiation. In this regard, the presence of elevated levels of nuclear VE-cadherin and phospho-VE-cadherin in VM-prone cells (unpublished results) could be crucial to understand the specific role non vascular VE-cadherin in the acquisition of invasive properties. Our ability to effectively abolish cancer is limited in part by the diverse vasculature development in relation with heterogeneous subpopulations contributing to tumors. Moreover, the unintended consequences of hypoxia induced by rapid tumor growth or by some conventional therapies may serve as a catalyst for the VM and CSCs phenotype. Through a profound elucidation of VM biology these limitations could be override. Therefore, it seems prudent, and definitely appropriate, to consider the application of new agents to target VM pathways associated with the stem cell phenotype and resistant to most conventional agents. Targeting VM with specific molecular compounds used in a combinatorial manner with front-line therapies may hold the greatest promise in the war on cancer.
Acknowledgements
SSS has been funded by a fellowship by RTICC RD12/0036/0026. This work was supported by Junta de Andalucía, project of Excellence from Junta de Andalucía P07-CTS-0239, P10-CTS-0662, P10-CTS-383, Spanish Ministry of Economy and Competitiveness SAF2009-13281-C02-01, SAF2012-40011-C02-01, SAF2015-70520-R,RTICC RD12/0036/0026 and CIBERONC ISCIII CB16/12/00421.
Authors' contributions
DD-B, SS-S, MF-L wrote the manuscript and designed the figures and tables. FJO concieved, wrote and contributed to the design and coordination. All authors read and approved the final manuscript.
Competing interest
The authors declare that they have no competing interests.
Publisher's Note
Springer Nature remains neutral with regard to jurisdictional claims in published maps and institutional affiliations.
Open Access
This article is distributed under the terms of the Creative Commons Attribution 4.0 International License (
http://​creativecommons.​org/​licenses/​by/​4.​0/​
), which permits unrestricted use, distribution, and reproduction in any medium, provided you give appropriate credit to the original author(s) and the source, provide a link to the Creative Commons license, and indicate if changes were made. The Creative Commons Public Domain Dedication waiver (
http://​creativecommons.​org/​publicdomain/​zero/​1.​0/​
) applies to the data made available in this article, unless otherwise stated.