03.03.2018 | Original Article | Ausgabe 4/2018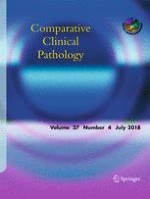 Acute toxicity and histopathological changes in livers of frog tadpoles (
Hoplobatrachus rugulosus

) exposed to bioinsecticides derived from

Azadirachta indica

A. Juss.,

Stemona curtisii

Hook.F., and

Mammea siamensis
Zeitschrift:
Autoren:

Kanokporn Saenphet, Supap Saenphet, Jittikan Intamong, Theeraphong Nakas, Wararut Buncharoen
Abstract
Azadirachta indica
A. Juss.,
Stemona curtisii
Hook.F., and
Mammea siamensis
are popularly used as bioinsecticides by Thai farmers. To evaluate their safety on frog (
Hoplobatrachus rugulosus
) tadpoles, the ecologically and economically important species of Thailand, an acute static toxicity test was performed. The tadpoles (
n
 = 10 per treatment group) were exposed to the bioinsecticides from
A. indica
(NSAI 5, 10, 15, 20, and 25 g/l) and the mixture of
S. curtisii
and
M. siamensis
(SCMS 0.8, 1.2, 1.6, 2.0, and 2.4 mg/l). It was found that the median lethal concentration (LC
50
) values at 96 h of the NSAI and the SCMS were 11.81 and 1.44 mg/l respectively. Hepatic failures were observed in tadpoles exposed to the NSAI and the SCMS. Histopathological changes included vacuolation, leukocyte infiltration, necrotic cell, and blood congestion. These lesions were more severe in the tadpoles treated with the NSAI or the SCMS at the high concentrations. Additionally, necrosis of bile duct epithelium, karyolysis, and sinusoidal dilation were apparently found in the tadpole exposed to 25 g/l of the NSAI, while the degeneration of bile duct was noted in the 1.6–2.4 mg/l of the SCMS-treated groups. However, the tadpoles exposed to 5 g/l of the NSAI showed only mild pathological changes in their livers. From a higher value of LC
50
of the NSAI than the SCMS together with the mild histopathological changes in the tadpoles exposed to the low concentrations, thus the NSAI is less toxic to
H. rugulosus
tadpoles than the SCMS.