27.03.2018 | Original Article | Ausgabe 4/2018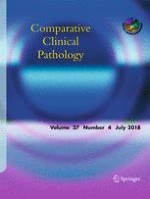 Bluetongue virus seropositivity and some risk factors affecting bluetongue virus infection in sheep flocks
Zeitschrift:
Autoren:

Morteza Yavari, J. Gharekhani, A. Mohammadzadeh
Abstract
Bluetongue (BT) is an insect-transmitted, viral, and non-contagious disease in several species of domestic and wild ruminants. Sheep is the most susceptible host for bluetongue virus (BTV) in ruminants. In current study, 556 serum samples of ewes were assessed by competitive ELISA to investigate the serum status of BTV antibodies and risk factors affecting its seroprevalence in sheep flocks of Hamedan province, west part of Iran. In total, 256 out of 556 (46%) samples were found seropositive against BTV in all examined counties with different prevalence (ranging from 23.9 to 85%). The mean of age in positive and negative groups (2.87 ± 0.83 and 2.94 ± 0.83, respectively) was not significantly different but the seroprevalence rates showed a reduction by increasing of age in sheep herds (
P
< 0.05). The analyzed data showed that 67.8% of abortions occurred in the second half of pregnancy and 25.0% of abortions happened in the first half of pregnancy period, and only 7.2% of lamb wastage occurred in the first day after labor. An association was found between seropositivity to BTV and abortion history, so that the seropositivity rates in ewes with abortion and non-abortion history were 41.7 and 4.3%, respectively (df = 4,
χ
2
= 6.73,
P
= 0.0001). The present study demonstrated the seroprevalence of BT in sheep is considerable in this region, so isolation and identification of involved serotypes of BTV and preparation of a precise control program with emphasis on vaccination and eradication of carriers are suggested for controlling of the BT.