21.04.2018 | Original Article | Ausgabe 2/2018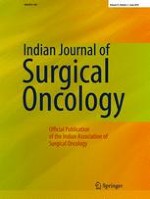 Clinical Significance of Incidental Prostatic Carcinoma on Radical Cystectomy Histology Specimens: a Clinicopathological and Survival Analysis
Zeitschrift:
Autoren:

Dharma Ram, Suhas K. Rajappa, Sudhir Rawal, Amitabh Singh, Kailash Chand Sharma, Ajay Kumar Dewan
Abstract
Incidental prostatic carcinoma on radical cystectomy histology specimens is not an uncommon entity and managing such cases is still controversial. Classification into clinically significant and insignificant cancers by Epstein based on the assumption that one is more likely to affect the survival than the other is not universally accepted. We conducted this retrospective analysis with the aim to find out the role of dichotomization of incidental prostatic cancer into such classification. Patient's data were retrospectively reviewed from January 2013 to December 2014. A total of 175 patients underwent radical cystectomy during the study duration and amongst them, 38 specimens showed incidental prostatic cancer. Their data pertaining to demographic profile, clinicopathological details, treatment received, complications and follow-up data was recorded. On comparative analysis, the disease-free survival in csPCa (clinically significant prostatic cancer) group was 60.82% and cisPCa (clinically insignificant prostatic cancer) 62.68% at 2.3 years (p 0.566), while OS was 55.68% for csPCa and 87.5% for cisPCa respectively (
p
0.814). The mean duration to recurrence was also comparable (19.4 months csPCa and 17 months cisPCa). None of the patients developed PSA elevation on follow-up and none of the recurrence or death were attributed to prostatic cancer. The stage of bladder cancer was the only factor, which had a significant impact on overall survival. The distinction between clinically significant and insignificant is not relevant according to our analysis.