28.04.2020 | COVID-19 | Position statement | Ausgabe 1/2020 Open Access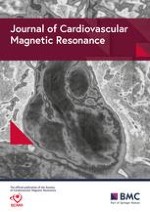 Society for Cardiovascular Magnetic Resonance (SCMR) guidance for the practice of cardiovascular magnetic resonance during the COVID-19 pandemic
Zeitschrift:
Autoren:

Yuchi Han, Tiffany Chen, Jennifer Bryant, Chiara Bucciarelli-Ducci, Christopher Dyke, Michael D. Elliott, Victor A. Ferrari, Matthias G. Friedrich, Chris Lawton, Warren J. Manning, Karen Ordovas, Sven Plein, Andrew J. Powell, Subha V. Raman, James Carr
Wichtige Hinweise
This article is a society recommendation from the Society of Cardiovascular Magnetic Resonance (SCMR). Peer review of this article has been carried out within the society)
Publisher's Note
Springer Nature remains neutral with regard to jurisdictional claims in published maps and institutional affiliations.
Abbreviations
CDC
United States Centers for Disease Control and Prevention
CMR
Cardiovascular magnetic resonance
eGFR
Estimated glomerular filtration rate
LGE
Late gadolinium enhancement
PPE
Personal protective equipment
SARS-CoV-2
Severe acute respiratory syndrome coronavirus 2
Introduction
COVID-19 is the clinical syndrome resulting from infection with a novel coronavirus, the severe acute respiratory syndrome coronavirus 2 (SARS-CoV-2), which was first identified in December 2019. SARS-CoV-2 has since spread across the world [
1
,
2
]. Declared a pandemic by the World Health Organization, there are over 1.3 million confirmed cases of COVID-19 worldwide in 185 countries and more than 178,000 associated deaths, as of April 22
nd
, 2020 [
3
].
As the COVID-19 pandemic propagates worldwide, there is an increasing resource burden on healthcare systems, and escalated measures are necessary to protect patients and healthcare workers from infection. At the same time, care for patients with cardiovascular disease and without active COVID-19 needs to continue during these circumstances, albeit with modifications. In the setting of the COVID-19 pandemic, approaches to diagnostic testing, including cardiovascular magnetic resonance (CMR), need to be adapted to allow for safe practices for urgent and semi-urgent CMR studies and appropriate deferral of elective exams. Furthermore, many patients with confirmed active COVID-19 have underlying cardiovascular disease or present with ischemic or inflammatory cardiac injury, such that an indication for CMR may arise. CMR is the reference non-invasive standard for cardiac function and tissue characterization and may offer an effective and efficient diagnostic imaging choice to obtain critical information for clinical decision-making.
Purpose
The aim of this document is to provide general guidance and specific recommendations on the practice of CMR in the era of the COVID-19 pandemic. Recognizing that practice patterns and policies vary depending on institution and locale, these recommendations are not meant to be restrictive but rather to serve as a general framework. As the situation is rapidly evolving, recommendations will be updated continuously and provided online in the SCMR's COVID-19 Preparedness Toolkit
https://​scmr.​org/​page/​COVID19
[
4
]. The recommendations are summarized in Fig.
1
.
×
CMR for patients without active COVID-19
CMR for confirmed active COVID-19 and patients under investigation
Indications
Acute myocardial injury has been frequently reported in COVID-19 patients and is associated with high mortality [
10
–
12
]. Acute myocarditis in COVID-19 may present as a fulminant process, and may respond to immunosuppressive therapy [
13
]. One case report documents the results of a CMR scan in a COVID-19 patient with suspected myocarditis [
14
]. Diffuse ST elevation, as well as elevated high-sensitive cardiac troponin T and N-terminal-pro brain natriuretic peptide levels, were found in a patient with no pre-existing cardiovascular risk factors who presented with one week of severe fatigue, fever, and dry cough. CMR demonstrated high T2-signal and possible diffuse late gadolinium enhancement (LGE). In patients who have troponin elevation, it is important to differentiate among possible etiologies including: acute coronary syndrome, demand ischemia, myocarditis, and acute myocardial injury in disseminated intravascular coagulation/cytokine storm/multisystem failure. The patient in the latter situation may be critically ill and may not be a candidate for CMR, but in many other clinical scenarios, CMR can be an important tool to differentiate types of myocardial injury.
CMR must be undertaken using a holistic approach, and weighed against other diagnostic modalities in terms of risk to the patient and healthcare personnel. If an imaging test does not have a significant impact on clinical decision-making, it should not be performed. However, if an imaging test is deemed necessary, a single imaging test should be the goal, whether or not it is computed tomography (CT), echocardiography, nuclear imaging, or CMR. CMR appears most appropriate in patients with clinically suspected acute myocardial injury, as defined by clinical criteria (symptoms, ECG abnormalities) and serologic evidence of cardiomyocyte damage with troponin elevation. In these patients, if unable to differentiate based on other clinical findings, CMR can differentiate between ischemic and non-ischemic etiologies, and further demonstrate the extent and severity of the injury and its impact on ventricular function. Quantitative cardiac output assessment can be helpful in differentiating high-output failure (caused by septic physiology) from low-output states (primarily caused by a reduced ventricular stroke volume). We recommend consulting with a multimodality imaging expert on the ideal testing modality to answer the diagnostic question and to reduce the risk of exposure. If not required for immediate clinical decision-making, CMR should be deferred until the COVID-19 patient has fully recovered and is no longer infectious.
Operational procedures
In patients with a high likelihood of or confirmed active COVID-19, CMR should be performed with adequate droplet and aerosol precautions for the staff members, i.e., N95/PPF2–3 respirator, eye shield (visor), gown, and gloves. If feasible, dedicating a single CMR scanner for COVID-19 patients would be ideal. The CMR suite should be treated as a highly contaminated area, because SARS-CoV-2 can survive on some surfaces for up to several days, although less likely to still be infectious [
15
]. If the CMR control room can be closed off as a separate area, it is best to be kept as a clean area free from any staff members who have had patient contact. The best practice would include one technologist in PPE to carry out the necessary tasks in the scanning room, and a second technologist to be confined to the control room for immediate scanning once the patient is positioned in the scanner. If the patient is intubated, precautions with regards to respiratory care will have to be instituted (see specific section below). Interpreting pulmonary findings should be performed collaboratively with chest radiology physicians if the CMR imager is not a radiologist, and reported in a similar fashion according to recently published guidelines for chest CT [
16
]. In patients with decreased renal function, macrocyclic gadolinium-based contrast agents should be used with caution in patients with an estimated glomerular filtration rate (eGFR) of < 30 ml/min/1.73m
2
. Acute kidney injury was reported in 5.1% of patients with COVID-19, and CMR exams requiring gadolinium contrast should be delayed until eGFR is > 30 ml/min/1.73m
2
[
17
]. If the patient has difficulty with breath-holding, real-time cine sequences and free-breathing LGE sequences should be utilized whenever possible. The focus of the exam should be on findings that would impact management, such as myocardial function, as well as tissue characterization with T1, T2, and LGE imaging.
CMR in ventilated confirmed or suspected active COVID-19 patients
CMR in ventilated patients with confirmed or suspected active COVID-19 represents a particular challenge. The conventional (non-MRI conditional) ventilator equipment needs to be disconnected in a specific separate negative pressure room outside but near the CMR scan room. All personnel accompanying and interacting directly with the patient must wear PPE (minimally N95 mask, eye shield , gown, cap, shoe covering, and gloves). The patient is then connected to the CMR compatible ventilator and both are moved into the scan room. Similar precautions (i.e., negative pressure room, PPE) need to be used when moving the patient from the scan room/MRI conditional ventilator to a conventional ventilator. Institutional policy regarding specific details about performing CMR scans on ventilated patients should be followed. The CMR protocol for ventilated patients should consist of rapid real-time free breathing imaging sequences.
Conclusion
In the era of the COVID-19 pandemic, as CMR providers, we must work closely with referring physicians to continue to provide care to patients without known active COVID-19 who need urgent and semi-urgent CMR imaging for diagnosis and pre-procedural planning. Standard or rapid protocols should be employed for these patients according to the indication. In patients with confirmed or suspected active COVID-19 and clinical evidence of myocardial injury, CMR may provide important and clinically useful information regarding the presence, etiology, and severity of myocardial injury. Focused protocols that assess ventricular morphology and function, as well as myocardial tissue characterization, are recommended. Special attention should be paid to protect healthcare workers and patients from exposure risks with the appropriate use of PPE during the visit and additional time allocated to disinfect between exams. The prognostic value of CMR, and as an imaging biomarker in this patient group, is an area of active investigation.
Ethics approval and consent to participate
NA
Consent for publication
NA
Open Access
This article is licensed under a Creative Commons Attribution 4.0 International License, which permits use, sharing, adaptation, distribution and reproduction in any medium or format, as long as you give appropriate credit to the original author(s) and the source, provide a link to the Creative Commons licence, and indicate if changes were made. The images or other third party material in this article are included in the article's Creative Commons licence, unless indicated otherwise in a credit line to the material. If material is not included in the article's Creative Commons licence and your intended use is not permitted by statutory regulation or exceeds the permitted use, you will need to obtain permission directly from the copyright holder. To view a copy of this licence, visit
http://​creativecommons.​org/​licenses/​by/​4.​0/​
. The Creative Commons Public Domain Dedication waiver (
http://​creativecommons.​org/​publicdomain/​zero/​1.​0/​
) applies to the data made available in this article, unless otherwise stated in a credit line to the data.
Publisher's Note
Springer Nature remains neutral with regard to jurisdictional claims in published maps and institutional affiliations.