01.02.2014 | 2013 SSAT Plenary Presentation | Ausgabe 2/2014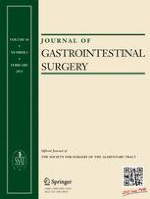 Depth of Submucosal Tumor Infiltration and its Relevance in Lymphatic Metastasis Formation for T1b Squamous Cell and Adenocarcinomas of the Esophagus
Zeitschrift:
Autoren:

Michael F. Nentwich, Katharina von Loga, Matthias Reeh, Faik G. Uzunoglu, Andreas Marx, Jakob R. Izbicki, Dean Bogoevski
Wichtige Hinweise
Presented at the Digestive Disease Week 2013, 18–21 May 2013, Orlando, Florida
Michael F. Nentwich and Katharina von Loga contributed equally to the presented work and therefore share first authorship.
This study was not supported by any grants.
Discussion
Dr. Steven R. DeMeester (Los Angeles, CA):
I congratulate the authors on a nice presentation and important study and continued contribution to this important field in esophageal cancer. I also commend you for reevaluation of the specimens pathologically rather than just relying on the pathology reports since over the years of course the staging system has changed and there is a renewed focus on the differentiation between T1A and T1B tumors.
In that respect, can you tell me how often the pathology changed on your reevaluation, particularly in these older specimens, from what the reports said to what you actually found on your reevaluation? Within the T1B, how often did you do your reevaluation, was it in fact either deeper or more superficial?
Secondly, in the node-negative patients did you consider humanistic chemistry for micrometastasis since that may actually lead to a higher prevalence of nodal disease than what you showed with H&E and routine processing.
And lastly, you showed no overall difference in the prevalence of lymph node metastasis based on the depth of semicosal invasion, but was there a low-risk group such as Elle and colleagues suggested might exist in small SM1 tumors with no lymphovascular invasion and well-differentiated histology? Did you look specifically at tumors that had all of those or lacked any of those high-risk features and what was the prevalence of no metastasis in that specific group?
Closing Discussant
Dr. Dean Bogoevski:
Thank you, Dr. DeMeester for your insightful comments and remarks. It was a challenge for us too, to reevaluate the pathological specimens. Especially in patients operated before 1997 and the 5th edition of the TNM Classification of the UICC, since in the old pathological reports there was no subdivision in pT1a and pT1b. Also, as you were able to see in the presentation, the oldest pathological specimens were already 20 years old, and in some cases even an experienced pathologist had problems to reevaluate them. Therefore, we had to exclude three patients from our cohort since the pathological specimens were no more usable for reevaluation. Concerning your question about the changing of the pathology, in 11 patients the pathological reports were changed after the reevaluation, but all of them within the pT1b, 3 patients from sm1 into sm2, 6 patients from sm2 into sm3, and 1 patient from sm3 into sm2.
Regarding the micrometastasis, we were also curious to find it out, but the time we had to prepare the manuscript did not allow us to finish the immunohistochemical staining. We started with the staining recently and we will report the results in the near future. However, I would like to quote the manuscript from our group published in Annals of Surgical Oncology in 2009 (Koenig et al.) in which we were able to show that the detection of nodal microinvolvement in pN0 patients with esophageal carcinoma worsened the 5-year survival rate from 75 to 30 %.
On your last question, I have to answer with yes, since we had in fact three patients with SCC pT1b, SM1, without lymphovascular invasion and well-differentiated histology that did not have lymph node metastasis. On the other hand, we also had 3 patients with SCC sm2, without lymphovascular invasion and well-differentiated histology that had lymph node metastasis. And the accuracy of the staging into thirds after ESD, as shown in the presentation, was poor. Therefore, factors like grading and lymphovascular invasion, although playing a pivotal role, still cannot give certainty about the nodal involvement in these patients.
Abstract
Background
Surgery for early esophageal carcinoma has been challenged by less invasive endoscopic approaches. Selecting patients in need for surgical intervention according to their risk of lymphatic spread is mandatory.
Objective
The aim of this study was to evaluate risk factors for lymphatic metastasis formation in T1b esophageal carcinomas.
Methods
Histopathological specimens following surgical resection for T1b esophageal carcinomas were reevaluated for overall submucosal layer thickness, depth of submucosal tumor infiltration, tumor length as well as lymphatic and vascular infiltration. Depth of tumor infiltration to overall submucosal thickness was divided in thirds (SM1, SM2, and SM3) and factors influencing lymphatic metastasis formation were assessed.
Results
A total of 67 patients with pT1b tumors were analyzed, including 36 adenocarcinomas (53.7 %) and 31 squamous cell carcinomas (46.3 %). Lymph node involvement was seen in 22.4 % (15/67) patients without significant differences between SM1 3/11 (27.3 %), SM2, 4/18 (22.2 %), and SM3 (8/38) (21.8 %) (
p
 = 0.909) carcinomas. On binomial log-regression models, only lymphangioinvasion and tumor length >2 cm was significantly associated with lymph node involvement.
Conclusion
As depth of submucosal tumor infiltration did not correlate with the formation of lymph node metastases and in regard of the risk of lymphatic spread in these cases, surgical resection is warranted in pT1b carcinomas.