01.12.2018 | Research article | Ausgabe 1/2018 Open Access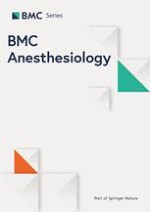 Efficacy of different doses of dexmedetomidine as a rapid bolus for children: a double-blind, prospective, randomized study
Zeitschrift:
Autoren:

Fang Chen, Chengyu Wang, Yi Lu, Mengmeng Huang, Zhijian Fu
Abstract
Background
Dexmedetomidine (DEX), a highly sensitive α2-adrenoceptor agonist that possesses anxiolytic, sedative, and analgesic effects, has been documented as a preventative and treatment for emergence agitation (EA). The therapeutic should be given as a loading dose that is infused during a 10 min period, but if a rapid bolus injection is deemed to be hemodynamically appropriate, it would be a more opportune route of administration. So we studied the efficacy of different doses of DEX as a rapid bolus for children to prevent and treat EA.
Methods
One hundred patients were enrolled and randomly divided into five groups: the control group (group D1), the 0.25 μg/kg DEX group (group D2), the 0.5 μg/kg DEX group (group D3), the 0.75 μg/kg DEX group (group D4), and the 1 μg/kg DEX group (group D5). Heart rate (HR), mean blood pressure (MBP) and blood oxygen saturation (SaO2) were recorded immediately before the study drug injection (baseline) and every minute for 5 min thereafter and at the time points of the skin cut and hernial sac pull. EA and pain were assessed in the post -anesthesia care unit, and any complementary medicine and adverse events were recorded too.
Results
The incidence of EA was significantly decreased in group D4 and group D5 compared with D1.All groups exhibited similar baseline HR and MBP. After administered, HR and MBP were significantly decreased in all DEX group compared with group D1.In groups D3, D4 and D5, the minimal HR was decreased significantly compared with the groups D1 and duration time of minimal HR significantly prolonged in group D5, but no patient needed treatment. As the dosage increased, the recovery time was significantly prolonged. There were no significant differences in occurrence time of minimal HR, the incidence of complementary medicine and adverse events among groups.
Conclusion
Rapid intravenous injection (IV) bolus administration of 0.75 and 1.0 μg/kg of DEX could improve the recovery profile by reducing the incidence of EA in children. Although its use resulted in a transient decreases in HR and MBP, DEX was clinically well-tolerated in children.