01.12.2015 | Study protocol | Ausgabe 1/2015 Open Access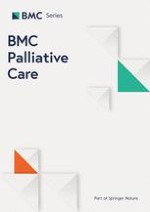 Enhancing legacy in palliative care: study protocol for a randomized controlled trial of Dignity Therapy focused on positive outcomes
Zeitschrift:
Autoren:

Lori P. Montross-Thomas, Scott A. Irwin, Emily A. Meier, Jarred V. Gallegos, Shahrokh Golshan, Eric Roeland, Helen McNeal, Diane Munson, Laura Rodseth
Wichtige Hinweise
Competing interests
The authors declare that they have no competing interests.
Authors' contributions
LMT is the study's principal investigator with oversight of all research operations. SI is the mentor, having helped conceive of the study and its implementation with continual assistance in allocating study resources. EM is the research coordinator overseeing recruitment, training, and study documentation. JVG is a research assistant and study therapist with roles in data entry, analysis, and manuscript preparation. SG is the study's statistician providing supervision of study design, as well as assistance in data management and statistical analyses. ER is a collaborating physician supporting study implementation and recruitment at a palliative care site. HM is a community partner with contributions to study design and support for on-going training of study therapists. DM is a grant developer who helped create the study design, then assisted in writing and submitting the study grant as well as post-award management. LR is a community partner who manages all study recruitment and staff needs within a hospice site.
Authors' information
Not applicable.
Abstract
Background
Dignity Therapy is a brief psychotherapy that can enhance a sense of legacy while addressing the emotional and existential needs of patients receiving hospice or palliative care. In Dignity Therapy, patients create a formalized "legacy" document that records their most cherished memories, their lessons learned in life, as well as their hopes and dreams for loved ones in the future. To date, this treatment has been studied for its impact on mitigating distress within hospice and palliative care populations and has provided mixed results. This study will instead focus on whether Dignity Therapy enhances positive outcomes in this population.
Methods/Design
In this study, 90 patients with cancer receiving hospice or palliative care will complete a mixed-methods randomized controlled trial of Dignity Therapy (
n
 = 45) versus Supportive Attention (
n
 = 45). The patients will be enrolled in the study for 3 weeks, receiving a total of six study visits. The primary outcomes examine whether the treatment will quantitatively increase levels of positive affect and a sense of life closure. Secondary outcomes focus on gratitude, hope, life satisfaction, meaning in life, resilience, and self-efficacy. Using a fixed, embedded dataset design, this study will additionally use qualitative interviews to explore patients' perceptions regarding the use of positive outcome measures and whether these outcomes are appropriately matched to their experiences in therapy.
Discussion
Dignity Therapy has shown mixed results when evaluating its impact on distress, although no other study to date has solely focused on the potential positive aspects of this treatment. This study is novel in its use of mixed methods assessments to focus on positive outcomes, and will provide valuable information about patients' direct experiences in this area.
Trial registration