29.09.2020 | Original Article | Ausgabe 1/2021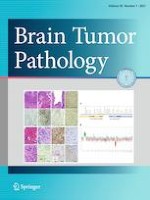 H3 G34-mutant high-grade glioma
Zeitschrift:
Autoren:

Ka Young Lim, Jae Kyung Won, Chul-Kee Park, Seung-Ki Kim, Seung Hong Choi, Taemin Kim, Hongseok Yun, Sung-Hye Park
Wichtige Hinweise
Electronic supplementary material
Publisher's Note
Springer Nature remains neutral with regard to jurisdictional claims in published maps and institutional affiliations.
Abstract
H3F3A
G34 (
H3.3
G34)-mutant high-grade gliomas (HGG) are rare, and newly recognized infiltrating gliomas of the cerebral hemisphere. Here, we report the clinicopathological and molecular characteristics of four
H3.3
G34-mutant gliomas in terms of its biological behavior compared to those of glioblastomas (GBMs) and
H3 K27M-
mutant diffuse midline gliomas (DMGs) of our hospital. The median age of the four patients with H3.3 G34 HGG was 44.5 years (14–66 years). Three patients had tumors in the cerebral hemisphere, whereas one patient had synchronous double tumors in the cerebral hemisphere and posterior fossa. All these tumors were high-grade glioma, but neither microvascular proliferation nor necrosis. They displayed uniform genetic and epigenetic signatures;
ATRX
-mutant,
MGMT
promoter-methylated, Olig2-negative, but
IDH
- and
TERT promoter
-wildtype. The median survival rate of
H3.3 G34
-mutant HGGs,
IDH
-was 23.5 months. In conclusion,
H3.3 G34
-mutant gliomas were unique HGGs with uniform genetic and epigenetic abnormalities, which suggested a single phylogenic origin. The median survival of
H3.3 G34
-mutant HGGs was better than those of
IDH
-wildtype GBMs and
H3 K27M-mutant
DMGs, but worse than that of
IDH
-mutant GBM. The tumor-infiltrating area and resectability may be the crucial parameters for the prognosis of the patients.