17.08.2017 | Original Article | Ausgabe 6/2017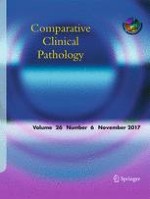 Hematological changes in yellowfin seabream (
Acanthopagrus latus

) following chronic exposure to bisphenol A
Zeitschrift:
Autoren:

Zeinab Yaghoobi, Alireza Safahieh, Mohammad Taghi Ronagh, Abdulali Movahedinia, Seyed Mohammad Mousavi
Abstract
Bisphenol A (BPA) is one of the industrial chemical compounds which is produced in large volume throughout the world. It is a monomeric compound that is used in the manufacture of polycarbonate plastics and epoxy resins. The widespread use of BPA and its entry to aquatic ecosystems are serious problems. The aim of this study is to assess the change in the hematological parameters of
Acanthopagrus latus
as biomarkers after exposure to BPA in low concentrations at 1, 5, 10, and 50 (μg/g BPA). The experimental period was 21 days, and the injections were conducted in 0, 7, and 14 days in complete dose form. The blood collection from fishes was carried out in 14 and 21 days. Hematological profile, including red blood cells (RBCs), hematocrit (Ht), hemoglobin (Hb), MCH, MCV, MCHC, and white blood cell differential counts (lymphocytes, monocytes, basophils, eosinophils, and neutrophils) was conducted. The results of this study indicated that BPA has an inverse correlation with fish hematological parameter abnormalities; increasing concentration of BPA leads to a decrease in the RBC, Ht, Hb, secondary indices, and lymphocytes. Therefore, it was concluded that all the studied hematological parameters can be used as biomarkers for the presence of xenobiotic such as BPA in the natural environment.