01.12.2017 | Review | Ausgabe 1/2017 Open Access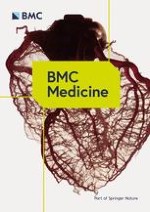 Is Graves' disease a primary immunodeficiency? New immunological perspectives on an endocrine disease
Zeitschrift:
Autoren:

Tristan Struja, Alexander Kutz, Stefan Fischli, Christian Meier, Beat Mueller, Mike Recher, Philipp Schuetz
Abstract
Background
Uncertainty about factors influencing the susceptibility and triggers for Graves' disease persists, along with a wide variation in the response to anti-thyroid drugs, currently at approximately 50% of non-responders. The aim of this narrative review is to summarize immunological concepts, with a combined endocrine and immunological perspective, to highlight potential new areas of research.
Main text
Relevant studies were identified through a systematic literature search using the PubMed and EMBASE databases in March 2016. No cut-offs regarding dates were imposed. We used the terms "Graves' Disease" or "Basedow" or "thyrotoxicosis" together with the terms "etiology", "pathophysiology", "immunodeficiency", "causality", and "autoimmunity". The terms "orbitopathy", "ophthalmopathy", and "amiodarone" were excluded. Articles in English, French, German, Croatian, Spanish, and Italian were eligible for inclusion.
Conclusions
While concepts such as the impact of iodine, smoking, human leucocyte antigen, infections, and ethnicity are established, new ideas have emerged. Pertaining evidence suggests the involvement of autoimmunity and immunodeficiency in the pathophysiology of Graves' disease. Recent studies point to specific immunological mechanisms triggering the onset of disease, which may also serve as targets for more specific therapies.