01.12.2018 | Research article | Ausgabe 1/2018 Open Access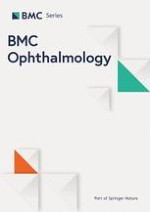 Longitudinal observation of subretinal fibrosis in Vogt-Koyanagi-Harada disease
Zeitschrift:
Autoren:

Chan Zhao, Fangtian Dong, Fei Gao, Xinshu Liu, Minghang Pei, Shanshan Jia, Meifen Zhang
Abstract
Background
Subretinal fibrosis (SRF) is a vision-threatening complication of Vogt-Koyanagi-Harada disease (VKH). It has long been recognized as a sequela of chronic inflammation. The developmental process of SRF, however, has not been described. The purpose of this study is to provide longitudinal observations of SRF in VKH.
Methods
Retrospective chart review of 10 VKH patients referred to our group between January 2008 and September 2015 at acute uveitic stage with SRF at presentation or who developed SRF during follow up.
Results
Ten patients (6 males and 4 females) with a median age of 39.0 (range, 23 to 58) years old were included. The median disease duration at presentation and median duration of follow up were 25.5 (range 5 to 60) days and 32.5 (range 13 to 61) months respectively. At presentation, all patients except one had been inappropriately treated with glucocorticosteroid (insufficiently dosed or tapered too fast) for longer than 2 weeks. Despite large dose oral glucocorticosteroid (1 mg/kg/d prednisone or equivalent) with slow tapering in combination with at least one immunomodulatory agent (cyclosporin A, cyclophosphamide or azathioprine) after presentation, all patients developed bilateral SRF within the first 4 months of disease course and 7 patients within the first 2 months. In 8 patients, shape-change/migration and progressive proliferation/pigmentation of SRF was observed over a period of several months after its formation, and then became quiescent but may further underwent depigmentation or pigmentation. SRF involved macula in 12 eyes (7 patients) and caused treatment resistant macular detachment and severe visual impairment in 6 eyes (4 patients). At the last visit, eyes with macular involvement were more common to had worse final best corrected visual acuity (≤20/50) than those without (9/12 vs. 0/8,
p
= 0.001).
Conclusions
SRF usually develop early in the disease course in VKH patients who are not adequately controlled; it usually undergoes a highly dynamic process within the subretinal space and may involve the macula and resulted in poor final visual outcome.