25.10.2017 | Original Article | Ausgabe 1/2018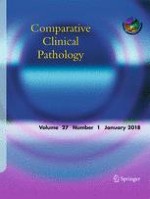 Lysiloma acapulcensis

leaves contain anthelmintic metabolites that reduce the gastrointestinal nematode egg population in sheep faeces
Zeitschrift:
Autoren:

Manases González-Cortazar, Alejandro Zamilpa, María Eugenia López-Arellano, Liliana Aguilar-Marcelino, David Emanuel Reyes-Guerrero, Sara Olazarán-Jenkins, Gabriel Ramírez-Vargas, Agustín Olmedo-Juárez, Pedro Mendoza-de-Gives
Abstract
One metabolite against lamb gastrointestinal nematodes (GIN) was identified from extracts of
Lysiloma acapulcensis
leaves. Firstly, an aqueous extract of
L. acapulcensis
leaves and two fractions, organic and aqueous, were evaluated at different concentrations against
Haemonchus contortus
eggs and histotrophic larvae. In other experiment, 35 Pelibuey GIN-infected lambs were randomly divided into five groups, as follows: (1) ivermectin (0.2 mg/kg BW); (2) control (untreated); (3) rutin (10 mg/kg BW, as a flavonoid comparison control); (4)
L. acapulcensis
leaves ethyl acetate fraction (EtAc-F, 25 mg/kg BW); and (5)
L. acapulcensis
leaves (dried and grinded, 5 g/kg BW). The EtAc-F fraction caused 94.8% egg-hatching inhibition (
P
< 0.05, 6.25 mg/ml). Likewise, at 50 mg/ml, this fraction resulted in 100% larval mortality. In the second experiment, the highest eggs per gram (EPG) of faeces reduction caused by ivermectin was 80.2% (ȳ = 61.8%); meanwhile, rutin showed a highest EPG reduction = 66.2% (ȳ = 37.5%). Similarly, EtAc-F fraction showed 62.9% EPG highest reduction (ȳ = 32.5%). On the other hand, lambs fed with
L. acapulcensis
leaves showed a maximum EPG reduction = 50.1% (ȳ = 29.4%). Chromatography analysis (HPLC; NRM) of EtAc-F fraction revealed the presence of myricitrin as a major compound.
Lysiloma acapulcensis
leaves EtAc-F exhibited the highest in vitro activity against
H. contortus
eggs and larvae. The low efficacy of ivermectin suggests the presence of anthelmintic resistance.
Lysiloma acapulcensis
leaves and fractions can be considered in future experiments searching for a sustainable alternative of GIN control.