01.12.2017 | Research | Ausgabe 1/2017 Open Access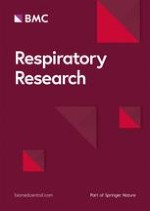 Mesenchymal stromal cell-derived extracellular vesicles attenuate lung ischemia-reperfusion injury and enhance reconditioning of donor lungs after circulatory death
Zeitschrift:
Autoren:

Matthew L. Stone, Yunge Zhao, J. Robert Smith, Mark L. Weiss, Irving L. Kron, Victor E. Laubach, Ashish K. Sharma
Abstract
Background
Lung ischemia-reperfusion (IR) injury after transplantation as well as acute shortage of suitable donor lungs are two critical issues impacting lung transplant patients. This study investigates the anti-inflammatory and immunomodulatory role of human mesenchymal stromal cells (MSCs) and MSC-derived extracellular vesicles (EVs) to attenuate lung IR injury and improve of ex-vivo lung perfusion (EVLP)-mediated rehabilitation in donation after circulatory death (DCD) lungs.
Methods
C57BL/6 wild-type (WT) mice underwent sham surgery or lung IR using an in vivo hilar-ligation model with or without MSCs or EVs. In vitro studies used primary iNKT cells and macrophages (MH-S cells) were exposed to hypoxia/reoxygenation with/without co-cultures with MSCs or EVs. Also, separate groups of WT mice underwent euthanasia and 1 h of warm ischemia and stored at 4
°
C for 1 h followed by 1 h of normothermic EVLP using Steen solution or Steen solution containing MSCs or EVs.
Results
Lungs from MSCs or EV-treated mice had significant attenuation of lung dysfunction and injury (decreased edema, neutrophil infiltration and myeloperoxidase levels) compared to IR alone. A significant decrease in proinflammatory cytokines (IL-17, TNF-α, CXCL1 and HMGB1) and upregulation of keratinocyte growth factor, prostaglandin E2 and IL-10 occurred in the BAL fluid from MSC or EV-treated mice after IR compared to IR alone. Furthermore, MSCs or EVs significantly downregulated iNKT cell-produced IL-17 and macrophage-produced HMGB1 and TNF-α after hypoxia/reoxygenation. Finally, EVLP of DCD lungs with Steen solution including MSCs or EVs provided significantly enhanced protection versus Steen solution alone. Co-cultures of MSCs or EVs with lung endothelial cells prevents neutrophil transendothelial migration after exposure to hypoxia/reoxygenation and TNF-α/HMGB1 cytomix.
Conclusions
These results suggest that MSC-derived EVs can attenuate lung inflammation and injury after IR as well as enhance EVLP-mediated reconditioning of donor lungs. The therapeutic benefits of EVs are in part mediated through anti-inflammatory promoting mechanisms via attenuation of immune cell activation as well as prevention of endothelial barrier integrity to prevent lung edema. Therefore, MSC-derived EVs offer a potential therapeutic strategy to treat post-transplant IR injury as well as rehabilitation of DCD lungs.