18.05.2017 | Urogenital | Ausgabe 11/2017 Open Access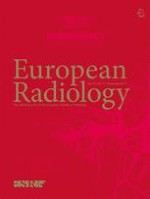 MRI findings in men on active surveillance for prostate cancer: does dutasteride make MRI visible lesions less conspicuous? Results from a placebo-controlled, randomised clinical trial
Zeitschrift:
Autoren:

Francesco Giganti, Caroline M. Moore, Nicola L. Robertson, Neil McCartan, Charles Jameson, Simon R. J. Bott, Mathias Winkler, Giulio Gambarota, Brandon Whitcher, Ramiro Castro, Mark Emberton, Clare Allen, Alex Kirkham
Abstract
Objectives
To investigate changes in the Apparent Diffusion Coefficient (ADC) using diffusion-weighted imaging (DWI) in men on active surveillance for prostate cancer taking
dutasteride
0.5 mg or
placebo
.
Methods
We analysed 37 men, randomised to 6 months of daily dutasteride (n = 18) or placebo (n = 19), undergoing 3T multi-parametric Magnetic Resonance Imaging (mpMRI) scans at baseline and 6 months. Images were reviewed blind to treatment allocation and clinical information. Mean ADC of peripheral (PZ) and transition (TZ) zones, and MR-suspicious lesions were compared between groups over 6 months. Conspicuity was defined as the PZ divided by tumour ADC, and its change over 6 months was assessed.
Results
A decrease in mean
conspicuity
in the dutasteride group (but not the controls) was seen over 6 months (1.54
vs
1.38; p = 0.025). Absolute changes in ADC and
conspicuity
were significantly different between placebo and dutasteride groups at 6 months: (-0.03
vs
0.08, p = 0.033) and (0.11
vs
–0.16, p = 0.012), as were percentage changes in the same parameters: (-2.27% vs 8.56% p = 0.048) and (9.25% vs -9.89% p = 0.013).
Conclusions
Dutasteride was associated with increased tumour ADC and reduced
conspicuity
. A lower threshold for triggering biopsy might be considered in men on dutasteride undergoing mpMRI for prostate cancer.
Key points
•
Dutasteride increases ADC and reduces conspicuity in small mpMRI
-
visible prostate cancers
.
•
Knowledge of dutasteride exposure is important in the interpretation of prostate mpMRI
.
•
A lower threshold for triggering biopsy may be appropriate on dutasteride
.