01.11.2010 | Genetics | Ausgabe 11/2010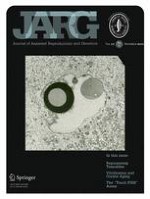 No mitochondrial DNA deletions but more D-loop point mutations in repeated pregnancy loss
Zeitschrift:
Autoren:

Seyed Mohammad Seyedhassani, Massoud Houshmand, Seyed Mehdi Kalantar, Glayol Modabber, Abbas Aflatoonian
Wichtige Hinweise
Capsule
No deletions but a high rate of D-loop point mutations were observed in mtDNA of RPL women. This condition may have a role in inducing RPL.
Abstract
Purpose
Repeated pregnancy loss (RPL) occurs in 1 out of 300 couples, and the cause of about 50% of them remains idiopathic. Mitochondria have an important role in human development through ATP production and their involvement in apoptosis.
Methods
96 RPL and 96 control females were used to investigate the frequency of deletions and point mutations in the displacement loop (D-loop) on mitochondria. Multiplex PCR and DNA sequencing methods were used to detect possible variations in the mitochondrial DNA (mtDNA).
Results
No deletions but a high frequency of point mutations were found in RPL females; among 129 variations observed in RPL, 22 mutations were significant (
P
 < 0.05) and the insertion of C in nucleotide 114 was novel.
Conclusion
High rate of mutations in D-loop of mtDNA was observed in maternal blood, a fact that may have a direct or indirect role in inducing RPL. The results can be used in the assessment of RPL and designing possible treatments for improving assisted reproduction.