01.11.2010 | embryo biology | Ausgabe 11/2010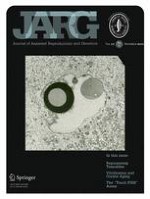 Stem cell factor/c-Kit signaling in in vitro cultures supports early mouse embryonic development by accelerating proliferation via a mechanism involving
Akt

-downstream genes
Zeitschrift:
Autoren:

Jung Jin Lim, Jin Hee Eum, Jeoung Eun Lee, Eun Sun Kim, Hyung Min Chung, Tae Ki Yoon, Kye-Seong Kim, Dong Ryul Lee
Wichtige Hinweise
Electronic supplementary material
The online version of this article (doi:
10.​1007/​s10815-010-9449-9
) contains supplementary material, which is available to authorized users.
Capsule
c-Kit siRNA inhibited development of preimplantation-stage mouse embryo and changed the mRNA expression of Akt target gene (upregulation of Tuberin and downregulation of mTOR). Tuberin normally inhibited mTOR which modulates cell proliferlation.
Jung Jin Lim and Jin Hee Eum contributed equally to this study.
Abstract
Purpose
Stem cell factor (SCF)/c-Kit regulates the proliferation and survival of germ cells or stem cells; however, little is known about the role of SCF/c-Kit in pre-implantation embryo development.
Methods
Using exogenous SCF supplementation and c-Kit siRNA injection, we investigated the role and mechanism of SCF/c-Kit in pre-implantation mouse embryos.
Results
Addition of soluble SCF to the culture medium improved blastocyst formation. c-Kit gene silencing reduced the rate of blastocyst formation and delayed embryonic development. The number of proliferating cells in c-Kit gene-silenced blastocysts decreased, whereas the number of apoptotic cells in blastocysts obtained from both experimental and the control groups was not affected. RT-PCR, immunostaining and western blotting revealed that proliferation-related
Akt
downstream targets were substantially affected by c-Kit gene silencing.
Conclusion
SCF/c-Kit signaling through
Akt
downstream targets is likely involved in mediating the cleavage and proliferation of blastomeres during mouse pre-implantation embryogenesis.