21.11.2018 | Evidence-Based Current Surgical Practice | Ausgabe 3/2019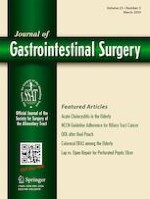 Non-Hepatic Abdominal Surgery in Patients with Cirrhotic Liver Disease
Zeitschrift:
Autoren:

Laura Hickman, Lauren Tanner, John Christein, Selwyn Vickers
Wichtige Hinweise
Disclosure Information
Authors: Laura Hickman, MD, has nothing to disclose; Lauren Tanner, MD, has nothing to disclose; John Christein, MD, has nothing to disclose; Selwyn Vickers, MD, has nothing to disclose. Editors-in-Chief: Richard A. Hodin, MD, and Timothy M. Pawlik, MD, MPH, PhD, have nothing to disclose. CME overseers: Arbiter: Timothy M. Pawlik, MD, MPH, PhD, has nothing to disclose; Vice-arbiter: Melanie Morris, MD, has nothing to disclose; Question reviewers: Marco Fisichella, MD, has nothing to disclose; Ron Landmann, MD, has nothing to disclose.
Laura Hickman and Lauren Tanner are co-first authors
Learning Objectives
1. Describe the physiologic changes of cirrhosis and their impact on peri-operative management
2. Describe the tools for assessing the severity of liver disease and their use for predicting postoperative complications in cirrhotic patients
3. Identify cirrhotic patients who can safely undergo general surgical procedures and those that have a prohibitively high risk
4. Review procedure-specific data to use during the operative decision-making
CME Questions
1. A 65 yo male presents to your outpatient clinic to discuss a symptomatic right inguinal hernia. While taking his history, he reports that he has been told he has liver disease because he used to drink heavily. On physical exam, he does have a large right inguinal hernia that is easily reducible but also has a fluid wave on abdominal exam. Prior to proceeding with an elective inguinal hernia repair, you should:
A. Do nothing more. He is safe for an elective operation.
B. Check an ETOH level to ensure he is not actively still drinking but schedule his operation.
C. Tell him he will never be a candidate for a hernia repair due to his cirrhosis
D. Refer him to a hepatologist for evaluation and medical optimization given he has ascites which is a manifestation of his liver disease
2. A 45 yo female with a known history of cirrhosis presents to your office with complaints consistent with symptomatic cholelithiasis. She is interested in gallbladder removal. She has no evidence of decompensation and has had a recent EGD without varices. She sees a hepatologist regularly but has not discussed her desire for cholecystectomy with him. What is a true statement about preoperative assessment and surgical planning?
A. Perform a physical exam. If no ascites or evidence of encephalopathy, she should be encouraged to proceed with cholecystectomy.
B. Perform a thorough history and physical exam, draw a full set of labs, calculate a MELD and CTP and discuss perioperative risks of morbidity and mortality
C. Refer her back to her hepatologist to discuss non-operative management including biliary decompression with a cholecystostomy tube as she is not a candidate for surgery
D. She should not undergo elective surgery until she is considered for liver transplantation
3. A 65 yo male in the hospital (admitted for pneumonia) who is now recovering develops complaints of an umbilical hernia. On exam, the hernia is reducible with a 2 cm fascial defect and no evidence of skin breakdown overlying the hernia. When evaluating his surgical risk, you are deciding between calculating a MELD versus a Child-Turcotte-Pugh score. Which of the following is true regarding these scoring modalities?
A. The MELD score should only be used if the patient has a TIPS
B. Both CTP and MELD scores are calculated based on laboratory parameters
C. There is no data to support using either the MELD or CTP score for calculating risk of mortality
D. The CTP score is calculated using 5 components including subjective parameters of encephalopathy and ascites in addition to serum bilirubin, serum albumin and prothrombin time
4. A 53 yo female is admitted to the hospital with abdominal pain. While getting a thorough history, she endorses a long history of IV drug use and has been told in the past that she may have "something wrong with her liver." A hepatitis C screen performed by the ED show a positive HCV Ab. What is the best method for obtaining a diagnosis of cirrhosis?
A. Hepatitis C virus antibody is diagnostic for cirrhosis
B. Laboratory evaluation showing elevated liver enzymes with AST:ALT 2:1 is suggestive of cirrhosis
C. A liver biopsy is the gold standard for diagnosis
D. There is no single best diagnostic tool but a combination of liver function tests, coagulation studies and CT scan carries high sensitivity
5. A 56 yo male is scheduled to undergo an elective laparoscopic right hemicolectomy for T2 adenocarcinoma found on screening colonoscopy. He has a diagnosis of nonalcoholic fatty liver disease, and pre-operative MELD is 12. You observe no ascites or stigmata of liver disease on physical exam. After risk counseling and aggressive optimization, he is taken to the operating room. Which commonly used medication is safe for this patient, without the need for dose reduction or additional monitoring?
A. Midazolam
B. Ketamine
C. Succinylcholine
D. Rocuronium
6. A 41 yo female with a known history of hepatitis C cirrhosis presents to your clinic with a 6 month history of right upper abdominal pain after eating. The symptoms occur most commonly after eating fried foods. Her primary care physician has completed a laboratory and imaging work-up that revealed cholelithiasis without cholecystitis. She has missed several days of work due to the pain, and would like to have a cholecystectomy. She is seen regularly by a hepatologist, and with medical management her most recent MELD score is 8. During her pre-operative counseling, which of these statements should you tell her?
A. Open cholecystectomy is associated with a lower postoperative mortality than the laparoscopic approach in cirrhotic patients and is the preferred operation
B. A MELD of 8 indicates over 50% 30-day mortality after elective procedures
C. The 30-day mortality for laparoscopic cholecystectomy for all cirrhotics approaches 8%
D. Laparoscopic cholecystectomy is associated with lower morbidity and shorter hospital length of stay compared to open cholecystectomy in cirrhotic patients
7. A 72 yo male with a history of alcoholic cirrhosis presents to your office after a recent emergency room visit for incarcerated umbilical hernia. He reports a 10 year history of the hernia; it has always been easily reducible until last week, when it became hard and painful. He had several episodes of emesis before presenting to the hospital. It was reduced by the physician on call after pain medication. Today, he is interested in scheduling elective umbilical hernia repair to prevent another episode of incarceration. Which of these statements is most correct?
A. Umbilical hernias are rare in cirrhotic patients, occurring in less than 5% of individuals
B. Conservative management is preferred in these patients, as future risk of incarceration is <2%
C. Elective repair is preferred, as patients have better outcomes than watchful waiting followed by emergent repair if complications arise
D. Elective repair is preferred, and primary suture repair of the defect has lower recurrence rates than mesh repair
8. A 55 yo female is admitted to the surgical ICU after laparotomy with small bowel resection for a small bowel mass. She has a history of cirrhotic liver disease, and her pre-op MELD was 14. On postoperative day 3, she is still unable to be weaned from the ventilator. Laboratory work-up reveals sodium of 135, creatinine 1.2, albumin 2.9, and pre-albumin of 4.3. She is unable to start enteral nutrition, as she continues to have bilious, high output drainage from her nasogastric tube. What is the preferred type of intravenous fluids in this patient?
A. 0.45% normal saline
B. 5% albumin
C. 0.9% normal saline with 40 mEq of potassium
D. Total parenteral nutrition
Abstract
Cirrhotic liver disease is an important cause of peri-operative morbidity and mortality in general surgical patients. Early recognition and optimization of liver dysfunction is imperative before any elective surgery. Patients with MELD <12 or classified as Child A have a higher morbidity and mortality than matched controls without liver dysfunction, but are generally safe for elective procedures with appropriate patient education. Patients with MELD >20 or classified as Child C should undergo transplantation before any elective procedure given mortality exceeds 40%. Laparoscopic procedures are feasible and safe in cirrhotic patients.