01.06.2014 | Clinical Investigation | Ausgabe 3/2014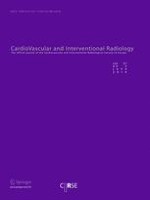 Outcome Study of Real-time MR-guided Cervical Periradicular Injection Therapy in an Open 1.0 Tesla MRI System
Zeitschrift:
Autoren:

Martin H. Maurer, Alexander C. Disch, Tony Hartwig, Diane M. Renz, Nils Schreiter, B. Hamm, Florian Streitparth
Abstract
Purpose
To evaluate the accuracy, safety, and efficacy of cervical nerve root injection therapy using magnetic resonance guidance in an open 1.0 T MRI system.
Methods
Between September 2009 and April 2012, a total of 21 patients (9 men, 12 women; mean age 47.1 ± 11.1 years) underwent MR-guided cervical periradicular injection for cervical radicular pain in an open 1.0 T system. An interactive proton density-weighted turbo spin echo (PDw TSE) sequence was used for real-time guidance of the MR-compatible 20-gauge injection needle. Clinical outcome was evaluated on a verbal numeric rating scale (VNRS) before injection therapy (baseline) and at 1 week and 1, 3, and 6 months during follow-up.
Results
All procedures were technically successful and there were no major complications. The mean preinterventional VNRS score was 7.42 and exhibited a statistically significant decrease (
P
< 0.001) at all follow-up time points: 3.86 ± 1.53 at 1 week, 3.21 ± 2.19 at 1 month, 2.58 ± 2.54 at 3 months, and 2.76 ± 2.63 at 6 months. At 6 months, 14.3 % of the patients reported complete resolution of radicular pain and 38.1 % each had either significant (4–8 VNRS score points) or mild (1–3 VNRS score points) relief of pain; 9.5 % experienced no pain relief.
Conclusion
Magnetic resonance fluoroscopy-guided periradicular cervical spine injection is an accurate, safe, and efficacious treatment option for patients with cervical radicular pain. The technique may be a promising alternative to fluoroscopy- or CT-guided injections of the cervical spine, especially in young patients and in patients requiring repeat injections.