01.12.2018 | Case Report | Ausgabe 1/2018 Open Access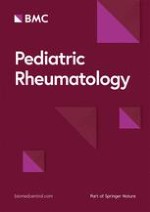 Pigmented villonodular synovitis in pediatric population: review of literature and a case report
Zeitschrift:
Autoren:

Mohsen Karami, Mehryar Soleimani, Reza Shiari
Abbreviations
JIA
Juvenile idiopathic arthritis
MRI
Magnetic resonance imaging
PVNS
Pigmented villonodular synovitis
Background
Pigmented villonodular synovitis (PVNS) is a rare proliferative process that affects the synovial joint, tendon sheaths, and bursa membranes [
1
]. The estimated incidence of PVNS is around 1.8 cases per million people in a population [
1
]. PVNS is usually found in adults aged 20–50 years, but it may also be found in children [
2
–
4
].
The youngest patient reported with PVNS was 12 months old [
5
]. Knee involvement is common in pediatric PVNS, although other affected areas have been reported, such as the foot and ankle, elbow, hip, sacroiliac joint, and multiple joint involvements [
3
,
5
–
32
]. Some authors have determined that there is no sex predilection in PVNS, while other reports have shown a male or female predominance [
1
,
2
,
33
].
The etiology of PVNS is unknown, but chronic inflammation, a tumor-like disorder with chromosomal aberrations that cause hemorrhagic tendencies, as well as genetic factors, have been proposed as potential causes [
2
,
3
]. Trauma and rheumatoid arthritis association have also been considered [
14
,
15
,
33
].
The following study reports on a 3-year-old boy with a 4-month-long history of pain and swelling in the right knee. The patient was initially treated for juvenile idiopathic arthritis (JIA) and growth retardation.
Case Presentation
This study follows the case of a 3-year-old boy with a 4-month-long history of pain and swelling in the right knee and no history of trauma. The patient had been taking prednisolone and methotrexate for a period of 6 months in response to signs and symptoms very similar to juvenile idiopathic arthritis (JIA). Previously, he had also received a yearlong growth hormone treatment, for which the medical reason is unknown. He had no familial history of rheumatological conditions.
A physical examination of the patient revealed swelling and a limited range of motion in the knee. It was clinically evident that the patella had been dislocated. The results of laboratory tests did not suggest that the patient suffered from JIA. Radiography images depicted soft tissue swelling around the knee joint. An MRI showed a large signal mass of synovium posterior to the lateral patellar facet, which caused lateral dislocation of the patella (Fig.
1
).
×
The chosen method of treatment for the patient was surgery, consisting of an open excisional biopsy and a proximal realignment procedure (vastus medialis obliquus advancement) through medial parapatellar incision. A histologic examination of the tissue exposed hyperplasia of the synovium, foamy macrophage, spindle cells, multinucleated giant cells and a considerable amount of hemosiderin deposits, all of which supported the diagnosis of PVNS (Fig.
2
).
×
After the open surgical synovectomy and 3 months of physiotherapy, the swelling of the knee lessened and the range of motion in the knee returned to normal. The patient was followed for 24 months without any signs of recurrence.
Discussion
Conclusion
Although PVNS is a rare condition in pediatric patients, it can occur with symptoms resembling juvenile idiopathic arthritis, therefore it should be considered in differential diagnosis of any arthritis in children. PVNS in children may cause mechanical symptoms such as patellar dislocation. In these cases, lateral release and a proximal realignment procedure, in addition to synovectomy, can be useful methods of treatment.
Acknowledgments
The authors wish to express their thanks to all hospital personnel involved in this study.
Funding
The study was performed without any funding.
Availability of data and materials
Please contact author for data requests.
Ethics approval and Consent to participate
Ethic committee approval has been obtained from the ethics committee of Shahid Beheshti University of Medical Sciences and Health Services.
Consent for publication
Consent to publish the manuscript has been obtained from the patient.
Competing interests
The authors declare that they have no competing interests.
Publisher's Note
Springer Nature remains neutral with regard to jurisdictional claims in published maps and institutional affiliations.
Open Access
This article is distributed under the terms of the Creative Commons Attribution 4.0 International License (
http://​creativecommons.​org/​licenses/​by/​4.​0/​
), which permits unrestricted use, distribution, and reproduction in any medium, provided you give appropriate credit to the original author(s) and the source, provide a link to the Creative Commons license, and indicate if changes were made. The Creative Commons Public Domain Dedication waiver (
http://​creativecommons.​org/​publicdomain/​zero/​1.​0/​
) applies to the data made available in this article, unless otherwise stated.