01.12.2017 | Methodology | Ausgabe 1/2017 Open Access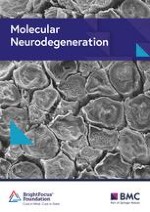 Separation of photoreceptor cell compartments in mouse retina for protein analysis
Zeitschrift:
Autoren:

Kasey Rose, Steven T. Walston, Jeannie Chen
Wichtige Hinweise
Electronic supplementary material
The online version of this article (doi:
10.​1186/​s13024-017-0171-2
) contains supplementary material, which is available to authorized users.
Abstract
Background
Light exposure triggers movement of certain signaling proteins within the cellular compartments of the highly polarized rod photoreceptor cell. This redistribution of proteins between the inner and outer segment compartments affects the performance and physiology of the rod cell. In addition, newly synthesized phototransduction proteins traverse from the site of their synthesis in the inner segment, through the thin connecting cilium, to reach their destination in the outer segment. Processes that impede normal trafficking of these abundant proteins lead to cell death. The study of movement and unique localization of biomolecules within the different compartments of the rod cell would be greatly facilitated by techniques that reliably separate these compartments. Ideally, these methods can be applied to the mouse retina due to the widespread usage of transgenic mouse models in the investigation of basic visual processes and disease mechanisms that affect vision. Although the retina is organized in distinct layers, the small and highly curved mouse retina makes physical separation of retinal layers a challenge. We introduce two peeling methods that efficiently and reliably isolate the rod outer segment and other cell compartments for Western blots to examine protein movement across these compartments.
Methods
The first separation method employs Whatman® filter paper to successively remove the rod outer segments from isolated, live mouse retinas. The second method utilizes ScotchTM tape to peel the rod outer segment layer and the rod inner segment layer from lyophilized mouse retinas. Both procedures can be completed within one hour.
Results
We utilize these two protocols on dark-adapted and light-exposed retinas of C57BL/6 mice and subject the isolated tissue layers to Western blots to demonstrate their effectiveness in detecting light-induced translocation of transducin (GNAT1) and rod arrestin (ARR1). Furthermore, we provide evidence that RGS9 does not undergo light-induced translocation.
Conclusions
These results demonstrate the effectiveness of the two different peeling protocols for the separation of the layered compartments of the mouse retina and their utility for investigations of protein compositions within these compartments.