14.11.2018 | Original | Ausgabe 12/2018 Open Access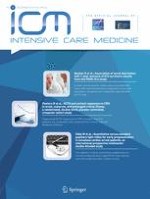 Targeting two different levels of both arterial carbon dioxide and arterial oxygen after cardiac arrest and resuscitation: a randomised pilot trial
Zeitschrift:
Autoren:

Pekka Jakkula, Matti Reinikainen, Johanna Hästbacka, Pekka Loisa, Marjaana Tiainen, Ville Pettilä, Jussi Toppila, Marika Lähde, Minna Bäcklund, Marjatta Okkonen, Stepani Bendel, Thomas Birkelund, Anni Pulkkinen, Jonna Heinonen, Tuukka Tikka, Markus B. Skrifvars, COMACARE study group
Wichtige Hinweise
Electronic supplementary material
Members of the COMACARE study group are listed in the Acknowledgements.
Abstract
Purpose
We assessed the effects of targeting low-normal or high-normal arterial carbon dioxide tension (PaCO2) and normoxia or moderate hyperoxia after out-of-hospital cardiac arrest (OHCA) on markers of cerebral and cardiac injury.
Methods
Using a 23 factorial design, we randomly assigned 123 patients resuscitated from OHCA to low-normal (4.5–4.7 kPa) or high-normal (5.8–6.0 kPa) PaCO2 and to normoxia (arterial oxygen tension [PaO2] 10–15 kPa) or moderate hyperoxia (PaO2 20–25 kPa) and to low-normal or high-normal mean arterial pressure during the first 36 h in the intensive care unit. Here we report the results of the low-normal vs. high-normal PaCO2 and normoxia vs. moderate hyperoxia comparisons. The primary endpoint was the serum concentration of neuron-specific enolase (NSE) 48 h after cardiac arrest. Secondary endpoints included S100B protein and cardiac troponin concentrations, continuous electroencephalography (EEG) and near-infrared spectroscopy (NIRS) results and neurologic outcome at 6 months.
Results
In total 120 patients were included in the analyses. There was a clear separation in PaCO
2
(
p
 < 0.001) and PaO
2
(
p
 < 0.001) between the groups. The median (interquartile range) NSE concentration at 48 h was 18.8 µg/l (13.9–28.3 µg/l) in the low-normal PaCO
2
group and 22.5 µg/l (14.2–34.9 µg/l) in the high-normal PaCO
2
group,
p
 = 0.400; and 22.3 µg/l (14.8–27.8 µg/l) in the normoxia group and 20.6 µg/l (14.2–34.9 µg/l) in the moderate hyperoxia group,
p
 = 0.594). High-normal PaCO
2
and moderate hyperoxia increased NIRS values. There were no differences in other secondary outcomes.
Conclusions
Both high-normal PaCO2 and moderate hyperoxia increased NIRS values, but the NSE concentration was unaffected.
Registration
ClinicalTrials.gov, NCT02698917. Registered on January 26, 2016.