01.12.2012 | Original investigation | Ausgabe 1/2012 Open Access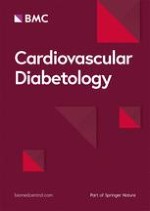 Vitamin D supplementation as an adjuvant therapy for patients with T2DM: an 18-month prospective interventional study
Zeitschrift:
Autoren:

Nasser M Al-Daghri, Khalid M Alkharfy, Abdulaziz Al-Othman, Emad El-Kholie, Osama Moharram, Majed S Alokail, Yousef Al-Saleh, Shaun Sabico, Sudhesh Kumar, George P Chrousos
Wichtige Hinweise
Electronic supplementary material
The online version of this article (doi:
10.​1186/​1475-2840-11-85
) contains supplementary material, which is available to authorized users.
Competing interests
The authors have no conflict of interest to disclose related to this study.
Authors' contributions
NMA and KMA conceived the study. AA, EE and OM recruited subjects and collected data. MSA and YA recruited subjects analyzed samples. SS performed data analysis and wrote the manuscript. SK and GC reviewed/edited the final version of the manuscript. All authors approved the final manuscript.
Abstract
Background
Vitamin D deficiency has been associated with impaired human insulin action, suggesting a role in the pathogenesis of diabetes mellitus type 2 (T2DM). In this prospective interventional study we investigated the effects of vitamin D3 supplementation on the metabolic profiles of Saudi T2DM subjects pre- and post-vitamin D supplementation over an 18-month period.
Methods
T2DM Saudi subjects (men, N = 34: Age: 56.6 ± 8.7 yr, BMI, 29.1 ± 3.3 kg/m2; women, N = 58: Age: 51.2 ± 10.6 yr, BMI 34.3 ± 4.9 kg/m2;) were recruited and given 2000 IU vitamin D3 daily for 18 months. Anthropometrics and fasting blood were collected (0, 6, 12, 18 months) to monitor serum 25-hydroxyvitamin D using specific ELISA, and to determine metabolic profiles by standard methods.
Results
In all subjects there was a significant increase in mean 25-hydroxyvitamin D levels from baseline (32.2 ± 1.5 nmol/L) to 18 months (54.7 ± 1.5 nmol/L;
p
 < 0.001), as well as serum calcium (baseline = 2.3 ± 0.23 mmol/L vs. 18 months = 2.6 ± 0.1 mmol/L;
p
 = 0.003). A significant decrease in LDL- (baseline = 4.4 ± 0.8 mmol/L vs. 18 months = 3.6 ± 0.8 mmol/L,
p
 < 0.001] and total cholesterol (baseline = 5.4 ± 0.2 mmol/L vs. 18 months = 4.9 ± 0.3 mmol/L,
p
 < 0.001) were noted, as well as a significant improvement in HOMA-β function (
p
 = 0.002). Majority of the improvements elicited were more prominent in women than men.
Conclusion
In the Saudi T2DM population receiving oral Vitamin D3 supplementation (2000 IU/day), circulating 25-hydroxyvitamin D levels remained below normal 18 months after the onset of treatment. Yet, this "suboptimal" supplementation significantly improved lipid profile with a favorable change in HDL/LDL ratio, and HOMA-β function, which were more pronounced in T2DM females.