01.12.2018 | Primary research | Ausgabe 1/2018 Open Access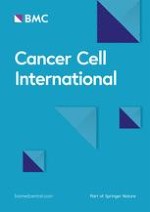 Clinicopathological and prognostic significance of long noncoding RNA MALAT1 in human cancers: a review and meta-analysis
Zeitschrift:
Autoren:

Juan Li, Zhigang Cui, Hang Li, Xiaoting Lv, Min Gao, Zitai Yang, Yanhong Bi, Ziwei Zhang, Shengli Wang, Baosen Zhou, Zhihua Yin
Wichtige Hinweise
Electronic supplementary material
Abbreviations
MALAT1
the metastasis-associated lung adenocarcinoma transcript 1
qRT-PCR
quantitative real-time polymerase chain reaction
HWE
hardy–weinberg equilibrium
DSS
disease-specific survival
PFS
progression-free survival
PDAC
pancreatic duct adenocarcinoma
ESCC
esophageal squamous cell carcinoma
EOC
epithelial ovarian cancer
ccRCC
clear cell renal cell carcinoma
EMT
epithelial–mesenchymal transition
ceRNA
competitive endogenous RNA
Background
Long non-coding RNAs (lncRNAs) as genomic "dark matters" have been disclosed to be closely related to the development of cancer [
1
–
3
], which lead to the alteration of oncogenic phenotypes including cell proliferation, differentiation, metastasis, apoptosis and invasion [
3
–
6
]. Based on the current emerging evidence, cancer-related lncRNAs may be candidate biomarkers for affording precise diagnosis, appraisal of personalized prognosis, evaluation of targeted therapy and prediction of lymph node metastasis, distant metastasis as well as tumour differentiation [
7
–
9
].
The metastasis-associated lung adenocarcinoma transcript 1 (MAlAT1) is mapped to human chromosome 11q13 [
10
,
11
]. Differentiating from other members of lncRNAs family, MALAT1 is a broadly expressed and evolutionarily conserved lncRNA with length of more than 8000 nt. Ji et al. initially discovered that MALAT1, a metastasis-associated gene, may be used to identify early-stage NSCLC patients that are at high risk to develop deterioration with metastasis [
12
]. Evidence for the carcinogenic roles of MALAT1 has gradually emerged from previous fundamental and clinical studies. For example, MALAT1 silencing might impede proliferation, migration, and invasion of triple-negative breast cancer (TNBC) cell by reversely mediating MiR-129-5p [
13
]. MALAT1 acts as a competitive endogenous RNA (ceRNA) to regulate ZEB1 expression by sponging miR-143-3p, whereas miR-143-3p inhibitor partially impaired the effect of MALAT1 on hepatocellular carcinoma (HCC) cells, and the inhibition of MALAT1 also might inhabit proliferation and invasion of HCC cells [
14
]. Moreover, activation of p53 may be due to depletion of MALAT1, which may result in cell cycle defects that are sensitive to p53 levels [
15
]. MALAT1 expression might be regulated by DNA methylation in lung cancer by evaluating methylation status of the CpG island at the MALAT1 promoter [
16
]. Furthermore, up-regulated MALAT1 promotes cell metastasis by activating the Wnt/β-catenin signaling pathway to promote EMT of bladder cancer cells [
17
,
18
]. Transition of oncogenic phenotypes caused by MALAT1 have also been observed in cervical cancer [
19
], gastric cancer [
20
], prostate cancer [
21
]. Taken together, emerging evidence manifested that dysregulated MATAT1 is closely related to the development of various types of cancer.
For the recent decade, increasing studies have demonstrated the influence of MALAT1 expression on clinicopathological parameters and prognostic outcomes among diffident types of cancer, including digestive cancers [
20
,
22
–
26
], gliomas [
27
,
28
], estrogen-dependent cancers [
29
–
31
], urological cancers [
32
–
34
] and other cancers [
12
,
35
]. However, these published studies have emerged the inconsistent and controversial conclusions [
22
,
32
,
34
,
36
]. Herein, we conducted a systematic review and meta-analysis to elucidate the relationship of MALAT1 with prognosis or clinical features and generalized its tumorigenicity among different cancers.
Materials and methods
Literature search
Eligible records were systematically retrieved in three authoritative databases including PubMed, Web of Science, and CNKI databases up to March 1, 2018 to obtain relevant articles regarding prognostic and clinicopathological outcomes of MALAT1 among malignant cancers, with the following keywords including "MALAT1 expression and (outcome or prognosis or prognostic or mortality or survival) and (cancer OR carcinoma OR tumor OR malignancy OR neoplasm OR lymphoma OR leukemia)". Besides, the references lists of included studies were retrieved to guarantee that all qualified studies contained in the pooling analysis.
Study selection and data extraction
Data extraction of each qualified articles was as follows: first author, year, country, ethnicity, type of cancers, follow-up (months), detection method, sample size, survival outcome and the corresponding HR and 95% CI and other data for clinical parameters. Eligible articles need to meet the following criteria: (a) studies with cancers diagnosed by pathological and histological confirmation; (b) studies with the survival outcomes such as "overall survival, "disease-free survival", "recurrence-free survival", "disease-specific survival", "progression-free survival", recurrence and mortality, and other clinical parameters such as lymph node metastasis, distant metastasis, differentiation/histological grade, tumor size and TNM stage; (c) original studies detected MALAT1 expression in tissue or plasma; (d) studies did explicitly provide HR and 95% CI. However, ineligible articles were excluded on the basis of the following criteria: (a) studies focused on other lncRNAs, diagnosis, polymorphism, case reports, reviews and meta-analyses; (b) studies did not provide available data; (c) studies only with mechanisms of MALAT1 and other genes; (d) animal studies of MALAT1 and other lncRNAs; (e) duplicated published reports, articles or data.
Quality assessment
Two investigators individually assessed the quality of all included studies according to the Newcastle–Ottawa Scale (NOS), and the scale totally comprises subject selection, comparability of study groups as well as ascertainment of survival outcomes. Articles with NOS ≥ 6 scores were regard as high-quality studies.
Statistical analysis
Cochran's Q and I2 tests were applied to find the heterogeneity across studies. Hazard ratios (HRs), odds ratios (ORs) and their 95% confidence intervals (95% CIs) were calculated by using a random effect model when I2 > 50% and the corresponding P value < 0.05. Otherwise, a fixed effect model was used to estimate the pooled results. Subgroup analysis were further performed to find the source of heterogeneity. Each single study on the overall effect of the stability of the pooled results was estimated by performing sensitivity analyses. Egger's test and Begg's funnel plot were applied to identify publication bias. All calculated results of the meta-analysis were performed by using Stata 11 software. A P value < 0.05 was consistently regarded as statistical significance.
Results
Discussion
Conclusions
In conclusion, the study revealed that over-expression MALAT1 might be an adverse biomarker for prognostic outcome, lymph node metastasis, distant metastasis, tumour size and TNM stage for cancer patients. MALAT1 might play a pivotal role in the tumorigenesis of multiple types of cancers. However, more high-quality larger-scale studies across ethnicities are warranted to explore the prognostic value and carcinogenic function of MALAT1 before it is applied to the treatment and management of cancer.
Authors' contributions
JL, ZHY and HL conceived and wrote the paper; JL, XTL and MG collected and analyzed the data; JL, ZGC, HL, MG, ZTY and YHB revised the whole paper. All authors have reviewed the final version of the manuscript and approved to submit to your journal. All authors read and approved the final manuscript.
Acknowledgements
Not applicable.
Competing interests
The authors declare that they have no competing interests.
Availability of data and materials
All the original data presented in additional files. Please contact authors for other data request.
Consent for publication
Not applicable.
Ethics approval and consent to participate
Not applicable.
Funding
This study was supported by National Natural Science Foundation of China (No. 81673261).
Publisher's Note
Springer Nature remains neutral with regard to jurisdictional claims in published maps and institutional affiliations.
Open Access
This article is distributed under the terms of the Creative Commons Attribution 4.0 International License (
http://​creativecommons.​org/​licenses/​by/​4.​0/​
), which permits unrestricted use, distribution, and reproduction in any medium, provided you give appropriate credit to the original author(s) and the source, provide a link to the Creative Commons license, and indicate if changes were made. The Creative Commons Public Domain Dedication waiver (
http://​creativecommons.​org/​publicdomain/​zero/​1.​0/​
) applies to the data made available in this article, unless otherwise stated.