05.08.2020 | COVID-19 | COVID-19 | Ausgabe 9/2020 Zur Zeit gratis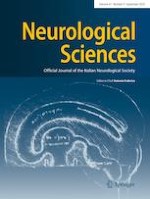 Challenges and management of neurological and psychiatric manifestations in SARS-CoV-2 (COVID-19) patients
Zeitschrift:
Autoren:

Alessandro Orsini, Martina Corsi, Andrea Santangelo, Antonella Riva, Diego Peroni, Thomas Foiadelli, Salvatore Savasta, Pasquale Striano
Wichtige Hinweise
Publisher's note
Springer Nature remains neutral with regard to jurisdictional claims in published maps and institutional affiliations.
Abstract
COVID-19 is a pandemic caused by human coronavirus (HCoV) SARS-CoV-2, which originated in Wuhan, China, at the end of 2019 and spread globally during 2020. Due to the difficulty of clinical decision-making during this period, our study group reviewed current literature focusing on the neurological and psychiatric aspects of COVID-19. Despite the knowledge on this newly discovered virus which is constantly evolving, different pieces of evidence reported an association between COVID-19 and neurological symptoms like headache, dizziness, taste and smell disorders and complications involving the nervous system eventually triggered by the pathologic processes elicited by SARS-CoV-2. It seems that younger patients are less prone to develop severe forms of COVID-19. However, neurological signs have been reported in paediatric patients as well, and in some cases, the infection presented neurological sequelae. Furthermore, children with particular neurological diseases or treated with specific drugs (e.g. immune-suppressant therapies) must be carefully monitored during this pandemic. Neurologists should be aware of the main drug–drug interactions and the neurological side effects of COVID-19 treatments. Notably, adverse mental health impact has been reported in patients with SARS-CoV-2, which could be related either to the social strain or to the eventual neurotropic effects of the virus, which in other infections have been proven to promote the onset of psychiatric symptoms. Further, psychiatric population may be more vulnerable to the infection and at higher risk for adverse outcomes.