Erschienen in: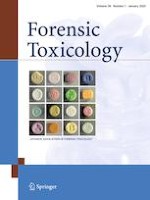 26.08.2019 | Original Article
In vitro toxicokinetics and analytical toxicology of three novel NBOMe derivatives: phase I and II metabolism, plasma protein binding, and detectability in standard urine screening approaches studied by means of hyphenated mass spectrometry
Erschienen in: Forensic Toxicology | Ausgabe 1/2020
Einloggen, um Zugang zu erhalten
Abstract
Purpose
Toxicokinetic studies are essential in clinical and forensic toxicology to understand drug–drug interactions, influence of individual polymorphisms, and elimination routes, as well as to evaluate targets for toxicological screening procedures.
N
-(2-Methoxybenzyl)-substituted phenethylamines (NBOMe analogues) intake has been associated with severe adverse reactions including deaths. 1-(1-Benzofuran-5-yl)-
N
-[(2-methoxyphenyl)methyl]propan-2-amine (5-APB-NBOMe), 2-(8-bromo-2,3,6,7-tetrahydrobenzo[1,2-b:4,5-b′]difuran-4-yl)-
N
-[(5-chloro-2-ethoxyphenyl)methyl]ethan-1-amine (2C-B-FLY-NB2EtO5Cl), and 2-(8-bromo-2,3,6,7-tetrahydrobenzo[1,2-b:4,5-b′]difuran-4-yl)-
N
-[(2-methoxyphenyl)methyl]ethan-1-amine (2C-B-FLY-NBOMe) are three emerging NBOMe analogues, which have encountered on the drugs of abuse market. So far, their toxicokinetic data are completely unexplored.
Methods
The study included mass spectrometry-based identification of phase I and II metabolites following exposure to the terminally differentiated human hepatocellular carcinoma cells (HepaRG). The determination of enzymes involved in the major phase I/II metabolic steps and determination of plasma protein binding (PPB) were done. Finally, the evaluation of the toxicological detectability by different hyphenated mass spectrometry techniques in standard urine screening approaches (SUSAs) was investigated.
Results
The compounds were extensively metabolized in HepaRG cells mainly via
O
-dealkylation, hydroxylation, glucuronidation, and combinations thereof. CYP1A2, 2D6, 2C8, 2C19, and 3A4, were involved in the initial reactions of all investigated compounds. Glucuronidation of the phase I metabolites—when observed—was mainly catalyzed by UGT1A9. The PPB of all compounds was determined to be > 85%. Only the high-resolution mass spectrometry-based SUSA allowed detection of all compounds in rat urine, but only via metabolites.
Conclusions
The toxicokinetic data provided by this study will help forensic and clinical toxicologists to reliably identify these substances in case of abuse and/or intoxication and will allow them a thorough risk assessment.