01.06.2014 | Original Paper | Ausgabe 6/2014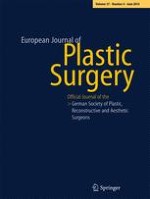 Is dermatome shaving a potential treatment for actinic keratosis in organ transplant recipients? A cross-sectional study
Zeitschrift:
Autoren:

Ulrik Kjerkegaard, Morten Bischoff-Mikkelsen, Tine Engberg Damsgaard, Torben Steiniche, Birgitte Stausbøl-Grøn, Lars Bjørn Stolle
Abstract
Background
Non-melanoma skin cancer (NMSC) is correlated with high morbidity and mortality in solid-organ transplant recipients (OTR) and it appears after a mean interval of 8 to 10 years. Prophylactic treatments are still required to prevent the development of NMSC. This study aims to investigate whether dermatome shaving reduced the occurrence of keratotic skin lesions in OTRs.
Methods
A retrospective study was conducted. One thousand and twenty-four patients who had a split-thickness skin graft due to NMSC excision were identified in the Central Denmark Region and the Region of Southern Denmark between 1996 and 2011. Eleven of these patients were OTRs at the time of split-thickness skin grafting and were included in the study. The patients were examined for keratotic skin lesions, representing suspected premalignant lesions, on the donor area of the split-thickness skin graft, recipient area and two corresponding control areas. Epidemiological and medical parameters for each patient were registered via medical records and through patient interviews.
Results
The average time between split-thickness skin grafting and clinical examination was 6.2 years (1.1–16.8). The occurrence of keratotic skin lesions were lower in the donor area compared to both of the control areas (Wilcoxon matched-pairs signed-rank test,
p
 = 0.024, respectively,
p
 = 0.019).
Conclusions
Dermatome shaving reduced the occurrence of keratotic skin lesions in OTRs and might prevent the development of field cancerization and NMSC.
Level of Evidence: Level III, therapeutic study.