20.05.2019 | Review Article | Ausgabe 7/2019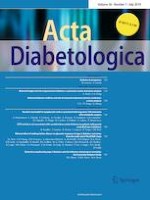 Maternal height and risk of gestational diabetes: a systematic review and meta-analysis
Zeitschrift:
Autoren:

Ahmed Arafa, Jia-Yi Dong
Wichtige Hinweise
Managed by Antonio Secchi.
Publisher's Note
Springer Nature remains neutral with regard to jurisdictional claims in published maps and institutional affiliations.
Abstract
Aims
Identifying women at high risk of developing gestational diabetes mellitus (GDM) is a public health interest. This study aims to investigate the association between maternal height and risk of GDM through meta-analysis.
Methods
We retrieved the studies that assessed maternal height in relation to GDM. Pooled risk estimates of the included articles and their 95% confidence intervals (95% CIs) were calculated using a fixed- or random-effects model. Subgroup analyses were conducted according to study design and study location. Quality of studies was determined using the Newcastle–Ottawa Scale. Publication bias was detected using the Egger's and Begg's tests.
Results
A total of 10 studies including 7 cohort and 3 cross-sectional studies with a total of 126,094 women were included for meta-analysis. Combined, each 5-cm increase in height was associated with about 20% reduction in risk of GDM [pooled odds ratio = 0.80, (95% CI 0.76, 0.85)]. The analysis revealed high heterogeneity between studies which dissolved after subgroup analysis by study design. This significant association did not differ between Asian and non-Asian populations. Egger's and Begg's tests showed little evidence of publication bias.
Conclusions
The present meta-analysis supports the conception that short stature is associated with GDM. Further studies of high quality are needed to confirm the findings.