29.05.2017 | Review | Ausgabe 5/2017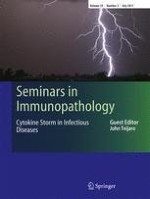 Molecular pathogenesis of viral hemorrhagic fever
Zeitschrift:
Autor:

Christopher F. Basler
Wichtige Hinweise
This article is a contribution to the special issue on Cytokine Storm in Infectious Diseases -- Guest Editor: John Teijaro.
Abstract
The clinical syndrome referred to as viral hemorrhagic fever (VHF) can be caused by several different families of RNA viruses, including select members of the arenaviruses, bunyaviruses, filoviruses, and flaviviruses. VHF is characterized by malaise, fever, vascular permeability, decreased plasma volume, coagulation abnormalities, and varying degrees of hemorrhage. Study of the filovirus Ebola virus has demonstrated a critical role for suppression of innate antiviral defenses in viral pathogenesis. Additionally, antigen-presenting cells are targets of productive infection and immune dysregulation. Among these cell populations, monocytes and macrophages are proposed to produce damaging inflammatory cytokines, while infected dendritic cells fail to undergo proper maturation, potentially impairing adaptive immunity. Uncontrolled virus replication and accompanying inflammatory responses are thought to promote vascular leakage and coagulopathy. However, the specific molecular pathways that underlie these features of VHF remain poorly understood. The arenavirus Lassa virus and the flavivirus yellow fever virus exhibit similar molecular pathogenesis suggesting common underlying mechanisms. Because non-human primate models that closely mimic VHF are available for Ebola, Lassa, and yellow fever viruses, we propose that comparative molecular studies using these models will yield new insights into the molecular underpinnings of VHF and suggest new therapeutic approaches.