01.06.2014 | Leitthema | Ausgabe 6/2014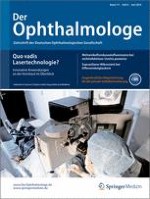 Perspektiven der laserassistierten Keratoplastik
Eine aktuelle Übersicht und erste experimentelle Erfahrungen mit dem Pikosekundeninfrarotlaser (λ = 3 µm)
Zeitschrift:
Autoren:

PD Dr. S.J. Linke, L. Ren, A. Frings, J. Steinberg, W. Wöllmer, T. Katz, R. Reimer, N.O. Hansen, N. Jowett, G. Richard, R.J. Dwayne Miller
Wichtige Hinweise
__ ____
Diese Studie wurde durch einen European Research Council Advanced Investigator Grant "Miller: ERC-adG-2011-291630: SUREPIRL, Picosecond Infrared Laser for Scarfree Surgery with Preservation of Tissue Structure and Recognition of Tissue Type and Boundaries" gefördert.
Zusammenfassung
Hintergrund
Die vorliegende Arbeit gibt eine Übersicht über den aktuellen Stand der laserassistierten Keratoplastik und beschreibt eine Machbarkeitsstudie zur Anwendung eines neuen Pikosekundenlasers für die applanationsfreie Hornhauttrepanation.
Methoden
Das Verfahren basiert auf einem speziell angepassten Lasersystem (PIRL-HP2-1064 OPA-3000, Attodyne Inc., Kanada), das bei einer Wellenlänge von 3000 ± 90 nm mit einer Pulsdauer von 300 ps und einer Repetitionsrate von 1 kHz arbeitet. Der Pikosekundeninfrarotlaser (PIRL) wird mithilfe eines selbst entwickelten Optiksystems über eine Scannereinheit zur Probe geführt. Die Korneoskleralscheiben wurden vor der Trepanation auf einer künstlichen vorderen Augenkammer fixiert und anschließend unter kontrollierten und stabilen Augeninnendruckverhältnissen mit dem PIRL behandelt.
Ergebnisse
Ein definiertes Ablationsschema, z. B. kreisförmig, linear, rechteckig oder scheibenförmig, kann gewählt und die spezifischen Abmessungen können durch den Benutzer festgelegt werden. Innerhalb dieser Studie wurden kreisförmige und gerade Inzisionen der Hornhaut analysiert. Makroskopische, histologische, konfokal mikroskopische und "Environmental scanning electron microscopy" (ESEM)-Untersuchungen wurden zur Charakterisierung der Schnittqualität durchgeführt. Mithilfe des PIRL konnten reproduzierbar und stabil Inzisionen in der humanen und porcinen Hornhaut bei minimaler Schädigung des umliegenden Gewebes ausgeführt werden.
Schlussfolgerungen
Die Laserstrahlung des PIRL, die im mittleren infraroten Spektralbereich (λ = 3 µm) exakt auf eine Vibrationsanregungsbande des Wassermoleküls abgestimmt ist, dient als effektives Hilfsmittel zur applanationsfreien Trepanation der Hornhaut und erweitert damit das Instrumentarium der Hornhauttransplantationschirurgie.