01.12.2014 | Minimally Invasive Gynecologic Surgery (A Fader, Section Editor) | Ausgabe 4/2014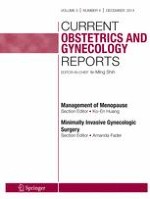 Robotic Surgery in Gynecologic Oncology: Updates and Innovations
Zeitschrift:
Autoren:

Pedro F. Escobar, Pilar E. Silva, Joshua A. Makhoul, Martin A. Martino
Wichtige Hinweise
Updates and Innovations in Gynecologic Oncology: Advances in Robotic-Assisted Surgery
Abstract
Surgical advances in minimally invasive surgery, including laparoscopic and robotics, have revolutionized the practice of medicine and surgery in gynecologic oncology. During this time, an emphasis has been made to improve quality metrics such as complications, readmissions, and length of stay. The Institute for Healthcare Improvement has recommended health systems and surgeons to improve performance focused on better care, better quality, and better cost. Minimally invasive surgery may help to achieve these measures and serve as the foundation upon which these goals are reached. Despite the availability of laparoscopic tools at many hospitals, the majority of patients who had gynecologic cancer surgery in the United States had a laparotomy prior to the introduction of robot-assisted surgery. Reasons for this have been attributed to limitations of laparoscopy, which include 2D vision and rigid instruments without articulation. One of the greatest advancements in gynecologic surgery occurred in 2005, when the FDA approved the da Vinci surgical platform (Intuitive Surgical Inc, Sunnyvale, CA, USA) for use in gynecologic surgery. This platform provides a 3D vision system paired with wristed articulating instruments. Together, these enhancements may overcome some of the limitations of laparoscopy allowing for surgeons to perform less open surgery. The introduction of robotics in 2005 has led to an increase in minimally invasive surgery and significantly less open surgery – especially for the gynecologic oncology patient. This review will focus on recent advancements in robotic surgery in the field of gynecology oncology. It will also discuss the role for standardizing education and training through the development of training and educational networks to improve surgical outcomes.