14.09.2017 | Original Article | Ausgabe 1/2018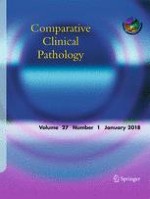 Serum 8-hydroxydeoxyguanosine and aldose reductase C-106T polymorphism in type 2 diabetes mellitus and its relation to complications in Egyptian patients
Zeitschrift:
Autoren:

Mostafa Mohamed Mansour, Mona Abo Bakr El-Hussiny, Nawal Abd El-Galeel Ghareeb, Hamdy Fouad Ali Marzouk, Nabil Ismael Lumon
Abstract
Diabetes mellitus (DM) is an inherited disease, which can affect every organ in the body. 8-hydroxydeoxyguanosine (8-OHdG) is a biomarker for oxidative DNA damage. Occurrence of C-106T polymorphism of the aldose reductase (ALR) gene in type II diabetic patients suffering from diabetic microvascular complications has been reported. The aim of the present work was to assess the association between oxidative stress and C(-106)T ALR gene polymorphism and the incident of type 2 diabetes (T2D) and its complications. The current study was conducted on 200 subjects classified into 150 T2D patients and 50 healthy control subjects. Quantitative determination of human 8-OHdG was done using enzyme-linked immunosorbent assay (ELISA) technique. ALR C(-106)T polymorphism was assessed by PCR/RFLP method. Levels of 8-OHdG were significantly increased in diabetic patients when compared to control subjects and in diabetic patients with complications when compared to those without complications (
P
< 0.001 or all). CT genotype was associated with susceptibility to development of T2D in Egyptian population. Nevertheless, this association has not been observed in diabetic complications. 8-OHdG level is significantly increased in diabetic group when compared to the control group and in diabetic patients with complications when compared to diabetic patients without complications. C(-106)T gene polymorphisms were associated with susceptibility to development diabetes, but it has no associations in development of complications.