01.12.2017 | Research | Ausgabe 1/2017 Open Access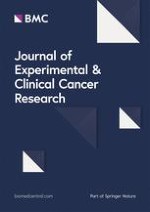 The role of c-Myc-RBM38 loop in the growth suppression in breast cancer
Zeitschrift:
Autoren:

Xiao-Xia Li, Liang Shi, Xu-Jie Zhou, Jing Wu, Tian-Song Xia, Wen-Bin Zhou, Xi Sun, Lei Zhu, Ji-Fu Wei, Qiang Ding
Wichtige Hinweise
Electronic supplementary material
The online version of this article (doi:
10.​1186/​s13046-017-0521-5
) contains supplementary material, which is available to authorized users.
Abstract
Background
RNA-binding protein 38 (RBM38) is a member of the RNA recognition motif (RRM) family of RNA-binding proteins (RBPs). RBM38 often exerts its function by forming regulatory loops with relevant genes. c-Myc is an oncogenic transcription factor that is upregulated in one-third of breast cancers and involved in many cellular processes in this malignancy. In our previous study, RBM38 was identified as a tumor suppressor in breast cancer. In the present study, we investigated the mechanisms underlying the regulation of this tumor suppressor.
Methods
Lentivirus transfections, Western blotting analysis, qRT-PCR and immunohistochemistry were employed to study the expression of c-Myc and RBM38. Chromatin immunoprecipitation and dual-luciferase reporter assays were performed to investigate the direct relationship between c-Myc protein and the RBM38 gene. RNA immunoprecipitation combined with dual-luciferase reporter assays was conducted to confirm the direct relationship between the RBM38 protein and the c-Myc transcript.
Results
Knockdown of c-Myc increased RBM38 expression by binding directly to specific DNA sequences (5′-CACGTG-3′), known as the E-box motif, in the promoter region of RBM38 gene. Additionally, RBM38 destabilized the c-Myc transcript by directly targeting AU-rich elements (AREs) in the 3′-untranslated region (3′-UTR) of c-Myc mRNA to suppress c-Myc expression. Moreover, specific inhibitors of c-Myc transcriptional activity inhibited RBM38-induced suppression of growth, implying that RBM38 acts as a tumor suppressor via a mechanism that depends, at least partially, on the reduction of c-Myc expression in breast cancer.
Conclusions
RBM38 and c-Myc form a unique mutually antagonistic RBM38-c-Myc loop in breast cancer.