01.12.2015 | Case report | Ausgabe 1/2015 Open Access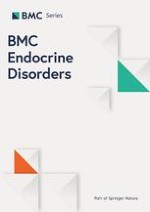 A case of familial central precocious puberty caused by a novel mutation in the
makorin RING finger protein 3

gene
Zeitschrift:
Autoren:

Anna Grandone, Grazia Cantelmi, Grazia Cirillo, Pierluigi Marzuillo, Caterina Luongo, Emanuele Miraglia del Giudice, Laura Perrone
Wichtige Hinweise
Competing interests
The authors declare that they have no competing interests.
Authors' contribution
AG designed the study, supervised the clinical assessment of patients and wrote the draft manuscript. GC and GC: conducted the genetic analysis, contributed to interpretation of the results and revised the manuscript. CL and PM: clinically followed patients and revised the manuscript. LP and EMG: contributed to design the study, to asses patients and revised the manuscript. All authors read and approved the final manuscript.
Abstract
Background
Central precocious puberty (CPP) is often familial but its genetic cause is largely unknown. Very recently, the makorin RING finger protein 3 (
MKRN3
) gene, located on chromosome 15 in the Prader-Willi syndrome (PWS)-associated region (15q11-q13), has been found mutated in 5 families with familial precocious puberty. The
MKRN3
is a maternal imprinted gene and the phenotype is expressed only when the
MKRN3
mutations are localized on the allele inherited from the father. The function of this gene is not completely known and the phenotype caused by its defect is not yet fully elucidated. We report a new
MKRN3
mutation (Pro160Cysfs*14) causing familial CPP.
Case presentation
The index case is a 7 years old girl showing Tanner stage 3 and pubic hair stage 1. Her bone age evaluated by TW2 method was 10.3 years. Her hormonal data confirmed the diagnosis of central precocious puberty. Familial medical history revealed precocious puberty in a cousin on paternal side. Paternal grandmother had menarche at the age of 9 years and 6 months and premature menopause when she was 36 years old. Genetic analysis revealed a new mutation (c477_485del; Pro160Cysfs*14) in the maternally imprinted
MKRN3
. Puberty onset was at 5 years in the other affected female family member. Precocious puberty was well controlled by pharmacological therapy.
Conclusion
We expand the number of the
MKRN3
mutations associated with CPP and highlight the importance of an accurate family medical history to disclose the peculiar pattern of inheritance of this gene.