01.04.2015 | Reports of Original Investigations | Ausgabe 4/2015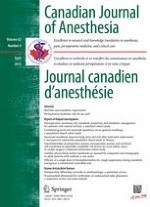 Efficacy of a single dose of dexmedetomidine for cough suppression during anesthetic emergence: a randomized controlled trial
Autoren:

MD Jeong Soo Lee, MD, PhD Seung Ho Choi, MD Young Ran Kang, MD Yunhee Kim, MD, PhD Yon Hee Shim
Wichtige Hinweise
This study was presented as a scientific poster at the 2013 Annual Meeting of Euroanaesthesia, June 3, 2013; Barcelona, Spain.
Author contributions
Yon Hee Shim
supervised the conception and design of the study and wrote the manuscript.
Jeong Soo Lee
and
Seung Ho Choi
participated in conducting the experiments and drafting the manuscript.
Jeong Soo Lee
,
Seung Ho Choi
,
Young Ran Kang
, and
Yunhee Kim
contributed to the data collection and analysis.
Young Ran Kang
and
Yunhee Kim
contributed to the study design. All authors contributed to the final manuscript.
Abstract
Purpose
Maintenance of a remifentanil infusion during anesthetic emergence has been reported to decrease the incidence of coughing and thereby help to ensure a smooth emergence. It may, however, cause respiratory depression and possibly delay emergence. The purpose of this study was to investigate the effect of a single dose of dexmedetomidine combined with a low-dose remifentanil infusion on cough suppression during emergence from general anesthesia.
Methods
American Society of Anesthesiologists physical status I-II adults undergoing elective thyroidectomy under sevoflurane anesthesia were recruited and randomly allocated to receive either dexmedetomidine 0.5 μg·kg
−1
iv
(Group D,
n
= 70) or saline (Group S,
n
= 71), each combined with a low-dose remifentanil infusion ten minutes before the end of surgery. Coughing was assessed using a four-point scale. The respiratory rate (RR), heart rate (HR), and mean arterial pressure were also recorded.
Results
The incidence of coughing was lower in Group D than in Group S (64%
vs
91%, respectively; mean difference 27%; 95% confidence interval [CI] 13 to 41;
P
< 0.001). The median cough grade at extubation was also lower in Group D. Mean arterial pressure and HR were elevated in Group S during tracheal extubation but were similar to baseline values in Group D. There was no difference in RR between the two groups throughout the study. A small delay in extubation was observed in Group D (3 minutes longer than Group S; 95% CI 2 to 4;
P
< 0.001).
Conclusion
Compared with an infusion of low-dose remifentanil alone, the addition of a single dose (0.5 μg·kg−1) of dexmedetomidine during emergence from sevoflurane-remifentanil anesthesia was effective in attenuating coughing and hemodynamic changes and did not exacerbate respiratory depression after thyroid surgery. This trial was registered at Clinicaltrial.gov, identifier: NCT01774305.